The mobility of today would be hardly imaginable without the automobile. In view of climate change, sustainable mobility concepts are increasingly in demand. The automotive sector is one of the largest users of bioplastics and is otherwise also increasingly sympathetic for bio-based materials.
FACTS & FIGURES
No. of companies:
17 (2015)
 
Employees:
756,000 (2015)
   
Sales:
€362 billion (2015)
(Source: VDA)
 
Examples of bioeconomy:
Car-body parts reinforced by natural fibres, car-interior lining and seats based on bioplastics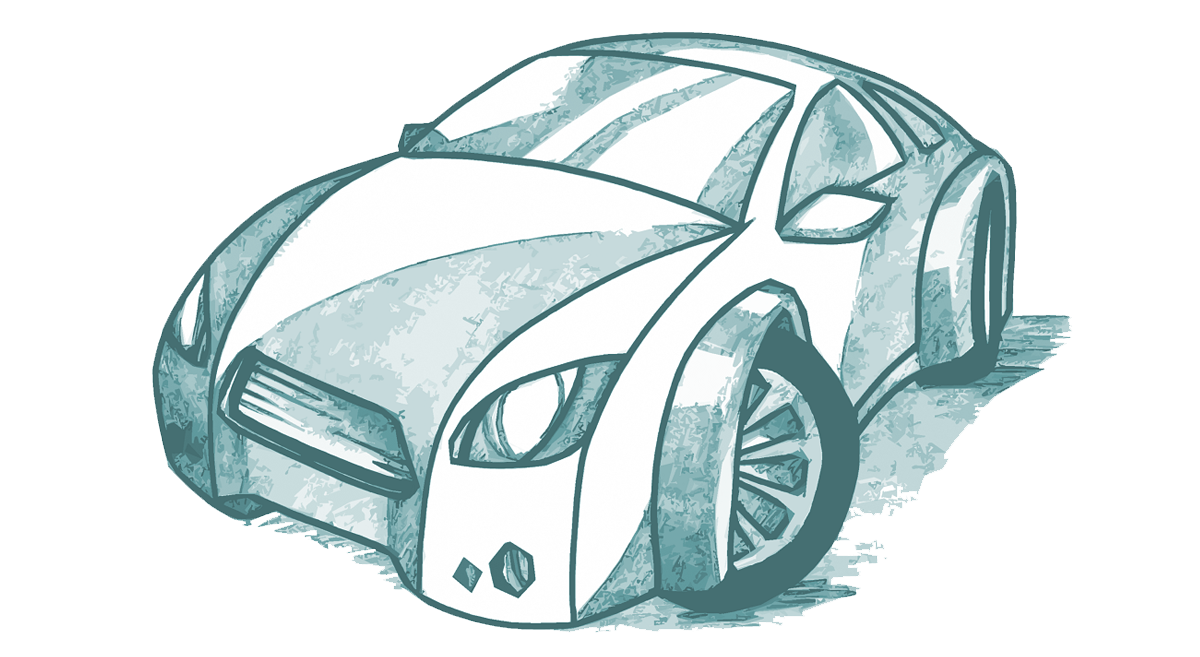 For the average German, modern life is hardly imaginable without the automobile. Each person in Germany now travels an average distance of 11.7 km per day, and the car is responsible for 55% of all distances travelled. A total of 78% of households have at least one car, and 80% of adult Germans have a driving licence. These figures are also reflected in statistical data for the automotive sector. The German Association of the Automotive Industry (VDA) declares that its sector is one of the key business areas of our present-day economy. With annual sales of 362 billion euros, it represents 3.9% of the German gross domestic product. Just over one-third of research and development resources in Germany flows directly or indirectly into the car industry. It is the most research-intensive sector of Germany – in 2013, 18 billion euros were invested in this industry. A total of 840,000 men and women are employed by car manufacturers and subcontractors.
The challenge of sustainability
The shadow side of mobility is likewise measurable in numbers: 20% of all greenhouse gas is attributable to the automobile. Surfaces sealed by streets and roads cover more than 2% of German land area. Noise, fine-particle pollution, sub-divided landscapes and billions of euros spent for maintenance and expansion of infrastructure must also be taken into account. More than half of international petroleum consumption, furthermore, is used for transportation. Petroleum is not only used here in the form of petrol, diesel fuel and lubricants – it is also widely employed as raw material for many automobile components, such as car paint, numerous parts of vehicle interiors, electronic components and displays. Since the 1950s, when private vehicles began to dominate the streets and become consumer articles, the share of plastic, synthetic fibres and foam derived from petroleum and used in our cars has continued to grow. Today, approximately 10% of plastics annually produced in Germany is used by the automotive industry. This is primarily because these materials are light, easily formed and highly effective for heat and noise insulation. Hybrid components, composed of metal and plastics, are also widely used. A number of the plastics are so robust that they can act as a substitute for metals.
Regenerative raw-material sources for materials
The topic of sustainability is also gaining in significance in the automotive industry. Consumers are asking for petrol economy, and the government stipulates lowered CO2 emissions. These expectations have above all led to greater focus by manufacturers on innovative materials. The impetus of increasing application of plastics in light automobile design have also enabled bio-based plastics and bio-hybrid materials – such as natural-fibre-reinforced composite materials – to gain increasingly stronger market positions.
Currently, for example, approximately 90,000 tons of wood-plastic composites are being used annually in the European car sector. Small companies, such as Tecnaro GmbH, also profit from rising demand for bio-based materials. Tecnaro, funded by the BMBF, developed a process for using residual material from cellulose production as basis for thermoplastic materials.
In fact, the use of biomaterials is not an entirely new trend. Already in 1915, Henry Ford installed in his legendary model-T a starter box made of the wheat protein gluten, reinforced with asbestos fibres. In the 1920s he designed car prototypes with body parts made of hemp fibres and soya flour. This material was so strong that Henry Ford, for advertising purposes, took an axe to the boot lid, without ruining it. The peak of this development was finally a prototype whose body was made entirely from regenerative materials. Since 2008 bio-based materials have been used for the Ford Mustang, although to a lesser degree. Just 5% of the weight of a Mustang consists of biomaterial. It is made from polyurethane foam, 40% of which consists of soya. Other automobile makers such as Toyota and Hyundai likewise count on bio-based plastics. In series production for its A-Class, Daimler Benz has a car bonnet of which 70% is made from plant-based raw materials. The processing characteristics of bio-based plastics used in car production represent one of the challenges here. A great deal of research and development work involves the problem of how existing injection moulding processes can be adapted to produce bio-based car components. The IfBB Institute for Bioplastics and Biocomposites at the college Hoch-schule Hannover conducts such work in its collaboration with all major car makers and companies along the value-added chain, to prepare the way for bio-based materials and their industrial processing.
Bioconcept-Car at the nature.tec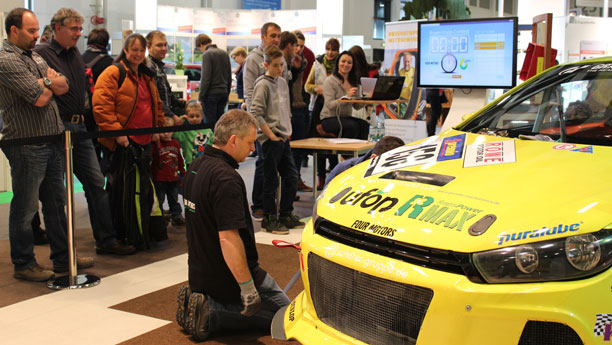 Funded by the Federal Ministry of Food and Agriculture (BMEL), the IfBB is developing its Bioconcept-Car: a racing car from the car-racing team Four Motors GmbH in Reutlingen, Germany, which also includes the singer Smudo from the hip-hop group "Die Fantastischen Vier". This project involves the development, manufacture and assembly of biocomposites with shares of regenerative raw materials from 30% to 70%, as well as of similar car body and interior parts. The IfBB tests the bio-based components in its lab before and after application in racing cars. Between races and at the end of the season, the IfBB removes the components and subjects them to extensive and non-destructive testing.
Tyres made of dandelion
But not only car bodies and interior are increasingly featuring bio-based material: alternatives are also being developed for rubber car tyre production. Until now, caoutchouc from rubber trees has been imported from subtropical climates. For this use, Russian dandelion (Taraxacum kok-saghyz) is also suitable: a plant that can be cultivated in Germany as well. Caoutchouc harvesting from the dandelion root is considerably less dependent on weather conditions and, owing to its ease of cultivation, opens entire new potentials, especially for unused agrarian areas. Within the context of a project funded by BMBF, research has taken place at Münster University on how the characteristics of the herbaceous plant Taraxacum kok-saghyz can be adapted to the requirements of mass cultivation. The Fraunhofer Institute for Molecular Biology and Applied Ecology (IME) in Aachen, Germany, together with the tyre producer Continental, are currently building a pilot plant in Münster to produce dandelion caoutchouc on an industrial scale. Within only a few years, researchers want to put car tyres made in this way on the streets. Already now, tests by Fraunhofer researchers have confirmed that the quality of the new rubber is the same as that of conventional material.