More efficiency for fuels from biogas
A new process improves the economic viability of synthetic fuels from biogenic residues.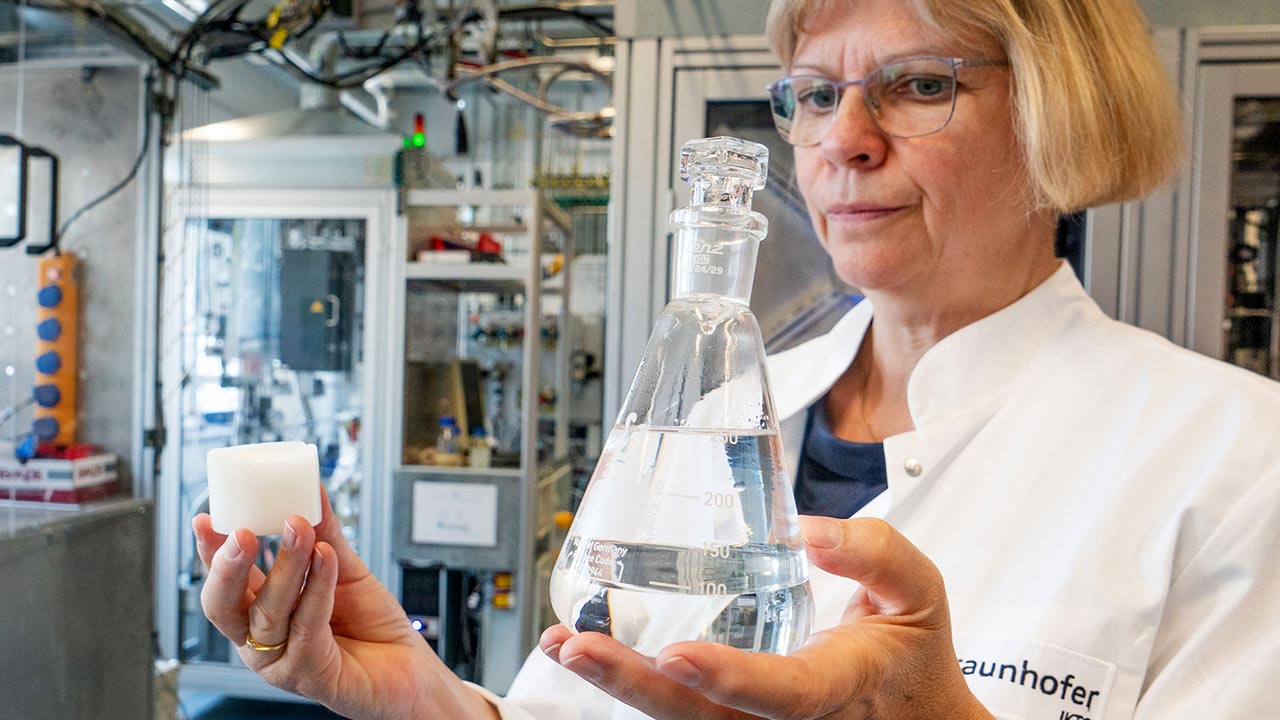 Flying powered by food scraps - that's how you could describe the vision of a team of researchers from the Fraunhofer Institute for Ceramic Technologies and Systems (IKTS). Together with several partner institutions, the experts have developed a plant that can produce synthetic fuels and biogenic waxes from biogas. The raw material for this is biological waste.
Synthetic diesel and kerosene
The process is as follows: Biogas is produced from biogenic residues such as old grease from the catering industry. A reformer uses this biogas and water vapor to produce synthesis gas - a mixture of hydrogen and carbon monoxide. A so-called Fischer-Tropsch unit produces methane, liquid hydrocarbons and wax from this. The methane is fed back directly to heat the process. What remains is wax and hydrocarbons. Refineries can use the latter to produce synthetic diesel or kerosene. Wax, in turn, is in demand in the cosmetics and lubricants industries.
The real trick, however, is that an electrolyzer can be switched on whenever there is little biogas available or electricity can be purchased particularly cheaply because photovoltaics or wind energy are generating surpluses. The electrolyzer breaks down water vapor and carbon dioxide into hydrogen and carbon monoxide. This means that there is always enough synthesis gas available for the Fischer-Tropsch unit to run reliably.
Biogas plants can be converted
Around 9,000 biogas plants are currently in operation in Germany. Many of them - especially the larger ones - could be converted accordingly. This would allow the plants to be operated more economically, natural resources would be conserved and less fossil natural gas and crude oil would be needed, sums up Erik Reichelt, head of the IKTS Systems Process Engineering working group. At around 2.50 euros per kilo, the fuels are at present more expensive than their fossil counterparts. But this could change quickly in the coming years in view of developments on the gas market and increasing climate protection requirements - also for the aviation industry.
The project participants Fraunhofer IKTS, TU Bergakademie Freiberg and TU Dresden as well as the Saxon companies Ökotec-Anlagenbau GmbH, Sunfire GmbH and DBI Gas- und Umwelttechnik GmbH have already put a pilot plant into operation. The next plan is to build an industrial-scale plant capable of producing several hundred liters of synthesis products per hour.
bl