From biomass to hydrocarbons
Johannes Kabisch
Occupation:
Molecular microbiologist
Position:
Professor at the Department of Biology, Technical University of Darmstadt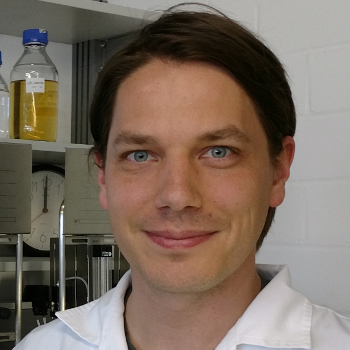 Occupation:
Molecular microbiologist
Position:
Professor at the Department of Biology, Technical University of Darmstadt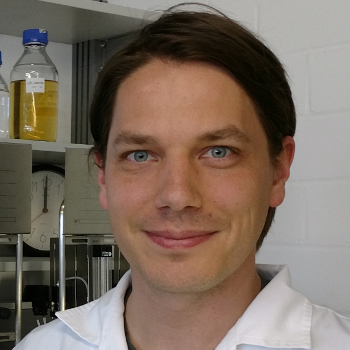 As part of the project 'DropIn Biofuels', Johannes Kabisch and his team of researchers are synthesising microbial hydrocarbons for use in the production of biofuels. The end product is hoped to serve as a potential future replacement for kerosene and diesel, and could thus also contribute to making air traffic more environmentally friendly.
In the global search for alternatives to oil-based fuels, the scientific community is focusing increasingly on renewable raw materials. While the automotive industry is gradually offering more eco-friendly models, the aviation industry is lagging behind. In the DropIn Biofuels project at the Technical University of Darmstadt, microbiologist Johannes Kabisch and his team are working on a new generation of biofuels that could help reduce the emissions caused by aviation. Thereby, the researchers are turning to the help of special microorganisms towards their goal of the sustainable production of hydrocarbons for use in new propellants. The DropIn Biofuels project is funded by the German Federal Ministry of Food and Agriculture (BMEL).
Question
What potential does the microbial synthesis of hydrocarbons hold for new biofuels?
Answer
The potential lies primarily in the ability of microorganisms to produce hydrocarbons on the basis of renewable raw materials. This means that the resulting fuels are closer to CO2-neutral. In addition, the corresponding processes offer new product potential for German agriculture. For example, farmers could convert plant residues into new products such as hydrocarbons.
Question
Which microbial helpers are you using in the 'DropIn Biofuels' project, and why these in particular?
Answer
We use the gram-positive bacterium Bacillus subtilis for our so-called 'bottom-up' approach, as well as the oleaginous yeast Yarrowia lipolytica as part of a 'top-down' approach. A selection criterion for both organisms was their absolutely safety. B. subtilis is found everywhere in the natural world, also as an important coloniser in our intestines. The same is true of Y. lipolytica, which can be found on cheese and in marzipan, among other things. We use B. subtilis to create hydrocarbon molecules from scratch, whereas Y. lipolytica breaks down the yeasts – so-called oil bodies – from hydrocarbons.
Question
How can microorganisms be used to produce hydrocarbons for biofuels?
Answer
The principle involves splitting off various cellular metabolites from unwanted groups, both through enzyme catalysis and chemical catalysis, which results in molecules containing only carbon and hydrogen.
Question
The DropIn Biofuels project recently entered the proof-of-concept phase. What are your next tasks and what are you hoping to achieve?
Answer
We are currently working on the further improvement of the oil bodies formed by Y. lipolytica, as well as the fine-tuning of the involved enzymes. We are also looking at how we can scale up the chemical-catalytic process.
Question
In your opinion, what is the future potential of this procedure?
Answer
The processes that we have developed are just one part of a larger puzzle towards the renewable production of fuels. Because it is difficult to power trucks and airplanes with batteries alone, we are focusing above all on alternatives to kerosene and diesel. Our fuels should also be low-emission. However, the greatest potential lies in each of us and in our ability to use our resources in a more energy-efficient and ecologically sound manner. When it comes to fuel consumption, we have to change our ways – even with the very best microbial cell factories.
Interview: Beatrix Boldt