Brewer's grains as a flour substitute for bread and veggie burgers
Saarbrücken researchers show the potential that spent grain could have for healthy and sustainable food production in the sense of a circular economy.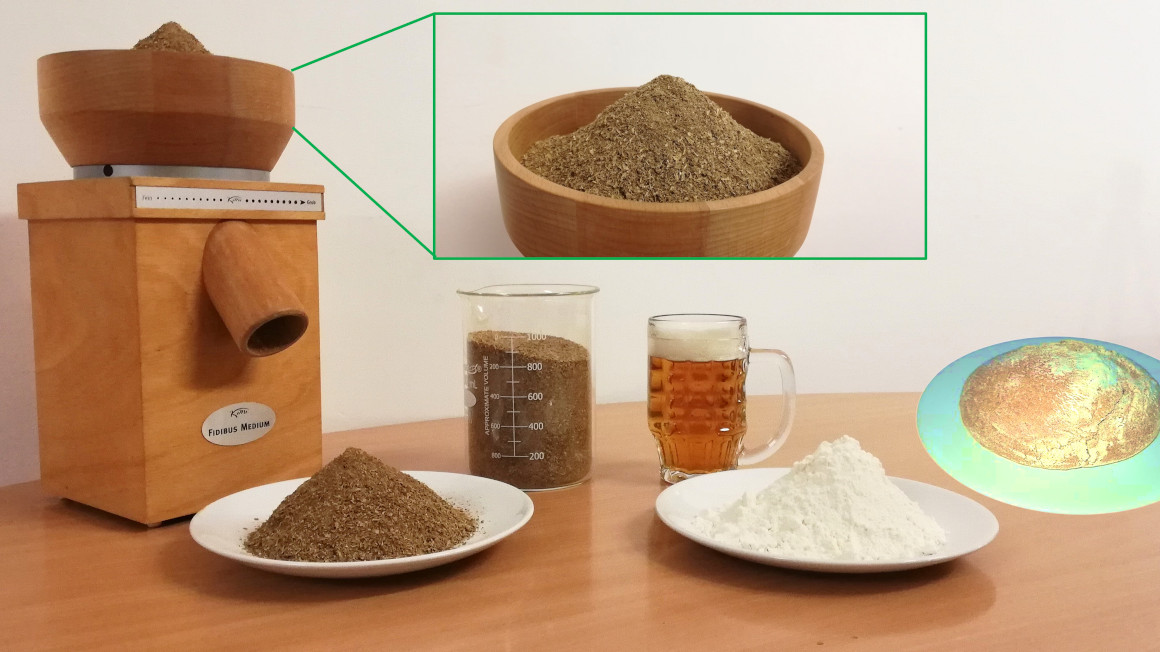 Large quantities of spent grains are produced as a by-product in beer production every day. In Germany, this amounts to 4,000 metric tons per day. The fibrous, brown mass is cereal residue that is primarily used as a feed additive or for biogas production, or disposed of as biowaste at high cost. Meanwhile, the residue contains important nutrients and could be a valuable food source, researchers have now shown. In the EU project Bioval, a team led by Claus Jacob from Saarland University in Saarbrücken has been working with partners to investigate whether spent grains could be used as a flour substitute in bread production - and what health benefits this would have.
Spent grains as a flour substitute
"The dried brewer's grains still contain many ingredients of the grain that are not water-soluble," explains Claus Jacob. The bulk: dietary fiber, which dominates at 40%. In addition, proteins account for 25%. But brewer's grains also contain fats, minerals and secondary plant substances such as phenols and flavonoids, which can have antioxidant and anti-inflammatory effects in the body. As part of the project, the researchers added various amounts of spent grains to bread dough as a flour substitute. Both moist, dried and ground spent grains were used.
The conclusion: "With five to ten percent spent grains, the breads were very good to eat, but with higher percentages of 20 percent or more spent grains, it no longer tasted good," reports Jacob. But spent grain would not only be suitable as a flour substitute for bread. Higher proportions could also be used in patties and burgers, where a fibrous taste experience is quite desirable, as the team writes in the specialist journal Food & Function.
Spent grain bread as a healthy source of fiber
The Saarbrücken researchers are also convinced of the health benefits of adding spent grains to bread or bratwurst. "The bread is rich in protein and contains a lot of fiber, which is clearly beneficial for health," Jacob explains. "Since most people consume much less fiber than recommended - 25 grams per day for women and 38 grams for men - the addition of brewer's grains can be both a beneficial and healthy source of fiber."
Brewer's grains as a building block for the circular economy
The team also examined the secondary plant compounds in the spent grains for their positive health effects. This showed that the phenolic constituents and associated antioxidant activity were still present in the gastrointestinal tract after digestion of the spent grain bread, but to a lesser extent. Further studies are needed, however, to accurately assess the extent of the health benefits of the secondary plant compounds. For the Saarbrücken researchers, the results of the project are encouraging: "We have seen that brewer's grains are clearly suitable as a building block for the circular economy: By using it, we can enrich bread and at the same time save flour and avoid waste," sums up Claus Jacob.
However, the shelf life of fresh brewer's grains is limited. The raw material should therefore either be processed quickly or refined further: Dried, ground and sold as flour, however, brewer's grains can be produced and stored in larger quantities, the researchers write.
The EU project "Bioval" was funded under the EU's Intergeg program for four years with a total of around 1.8 million euros. The Luxembourg Institute of Health, the University of Milan and the Belgian company CELABOR were involved.
bb