Darmstadt-based textile start-up scores in PlanB start-up competition
With a functional fiber made from green waste, the young company nakt convinced the jury at the Bavarian PlanB competition for bio-based business ideas.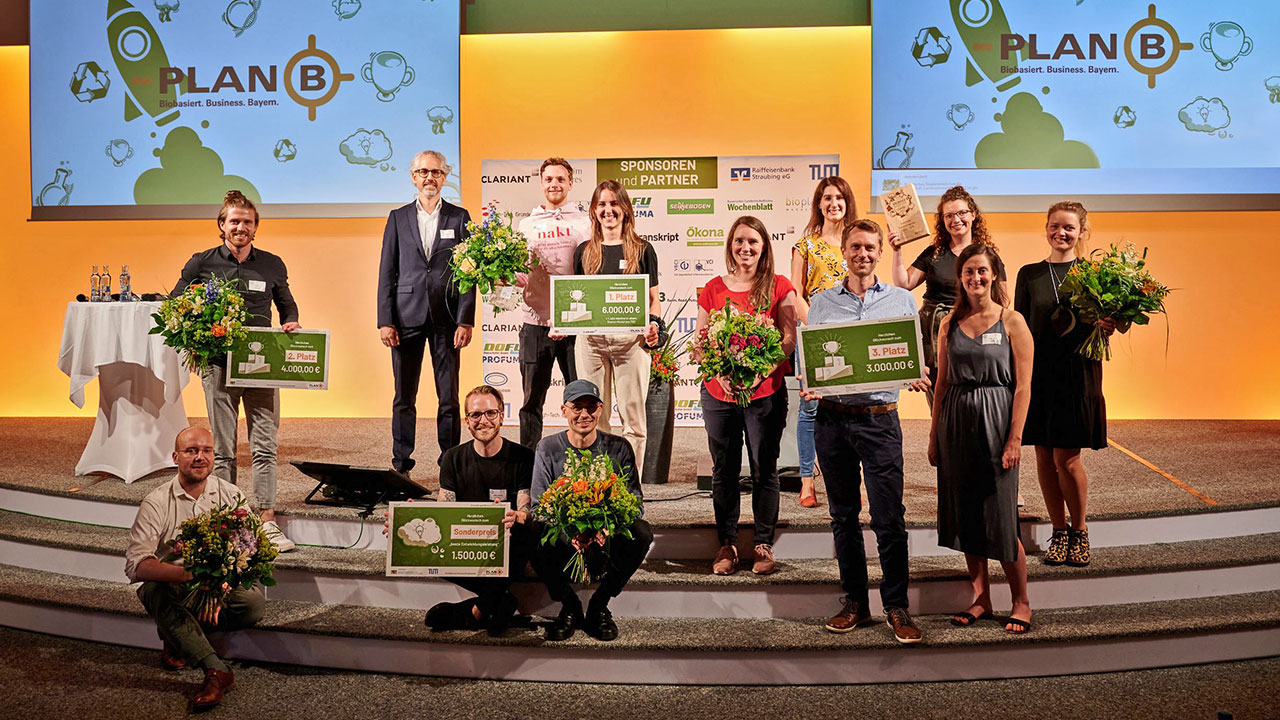 On June 23, 2021, Sebastian Seibert and Louisa Wenkemann won the fourth edition of the start-up competition "PlanB - Biobased.Business.Bavaria" with their young company "nakt" from Darmstadt. They convinced the jury with a functionalized fiber made from green waste. "nakt" has produced a reusable makeup wipe from it as its first application. It promises deep pore cleansing with water alone, is said to be reusable and machine washable for months, and is also compostable as well as recyclable. As a prize, "nakt" will receive 6,000 euros and a free rental unit in the Straubing Technology and Start-up Center for one year.
Functionalizable vegetable carbon and green natural gas
The expert jury agreed that the top five in the competition have never been as close as this year. "It feels like everyone is a winner today," said competition spokeswoman Mirja Wehner. Second place and prize money of 4,000 euros went to "Circular Carbon" from Würzburg. From food production waste such as chocolate bean shells and wine pomace, the start-up generates process steam and functionalizable plant carbon that can be used to improve agricultural soils. Third place and 3,000 euros went to "Microbify" from Regensburg. The university spin-off aims to use old natural gas storage facilities to produce microbial green natural gas.
Pulp, mist irrigation and food packaging
"eco:fibr" from Bonn produces pulp from pineapple harvest residues, which was enough for fourth place and the audience award. Fifth in the final was "Lite+Fog" from Berlin, which develops technologies for vertical farming, including fog irrigation. The special prize for the best development achievement went to "Protegg," which wants to use egg membranes as a model to package food. Volker Sieber from the Straubing Campus of the Technical University of Munich, presented this award and summed up: "We believe: Without start-ups, the bioeconomy won't work."
From the idea to the marketable product
The start-up competition "PlanB - Biobased.Business.Bavaria." is organized by BioCampus Straubing GmbH and sponsored by the Bavarian Ministry of Economic Affairs, Regional Development and Energy. In addition, several companies accompany the competition as sponsors and supporters. PlanB has been held every two years since 2014 and aims to guide bio-based business ideas on the path to become marketable products.
bl