"Our biomaterial can replace hard-to-recycle plastic"
Anne Lamp
Profession:
PhD in process engineering
Position:
Founder and managing director of the Hamburg-based start-up Traceless Materials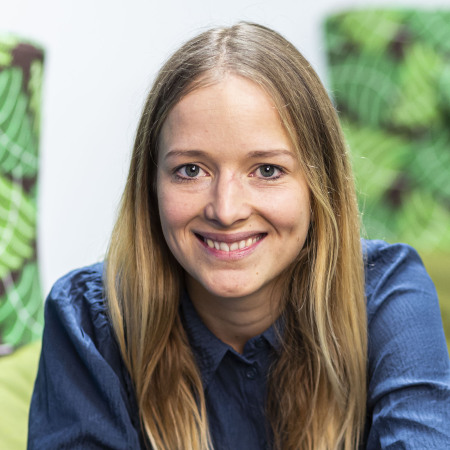 Source
Marc Schultz Coulon
Profession:
PhD in process engineering
Position:
Founder and managing director of the Hamburg-based start-up Traceless Materials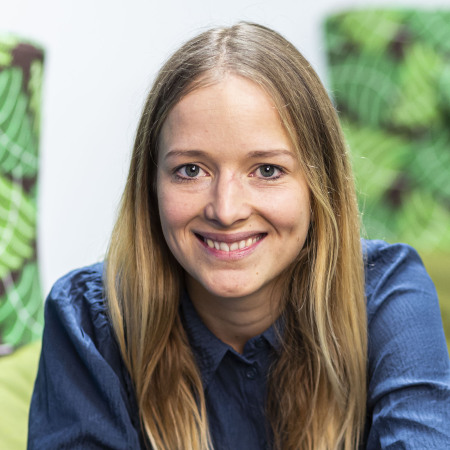 Source
Marc Schultz Coulon
With her Hamburg-based start-up Traceless Materials, Anne Lamp wants to launch an innovative biomaterial that is fully compostable.
In September 2020, process engineer Anne Lamp founded the start-up Traceless Materials in Hamburg together with Johanna Baare. The idea: to turn agricultural residues into a biomaterial that can be biodegraded in a short time and is particularly suitable for packaging and disposable products. The start-up recently received millions in funding from the European Innovation Council (EIC) for this and can now further expand production of the innovative biomaterial.
Question
How does Traceless biomaterial differ from other bioplastics?
Answer
First of all, it is better biodegradable: many bioplastics are designed for industrial composting plants - our material, on the other hand, is compostable under natural conditions. Traceless is based on natural polymers that nature itself has produced. The natural microbes that become active during composting are therefore already well adapted to these biopolymers and can break them down easily. Another difference with bioplastics is the starting material. Many bioplastics are based on starch or sugar and thus compete to some extent with food production. We, on the other hand, work with residual materials from the agricultural industry, for example from grain processing, and thus avoid potential land use changes. Overall, our goal was to develop an alternative to plastic that is holistically sustainable and takes all impact indicators into account.
Question
Can the Traceless material keep up with conventional plastics in terms of its technical properties?
Answer
In fact, Traceless belongs to a whole new generation of biomaterials - instead of imitating plastics one-to-one, we are trying to transfer their advantageous properties to this new field. Although it is a completely biocircular material, Traceless can compete with conventional plastics in many respects - it is storage-stable, has good barrier properties, and its mechanical properties such as tensile strength are comparable to those of many plastics. What was particularly important to us during development was that Traceless can be processed in a similar way to plastics, for example using thermoplastic processes such as extrusion or heat sealing. Using natural, harmless dyes, we can also color and print our material.
Question
For which applications is the Traceless material suitable?
Answer
Especially for products that have a short life span, Traceless is a truly sustainable alternative to plastic. One example would be disposable packaging. Traceless can also replace plastic where recycling is difficult - for example, in adhesives or thin coatings made of plastic that are applied almost invisibly to paper or cardboard to improve barrier properties or make the paper heat-sealable. In the long term, we also see potential in products that automatically enter the environment as microplastics, for example as abrasion from brake pads.
Question
A pilot plant for the production of the new bioplastic granules was built in 2021. What is the status of the construction of the large-scale plant to be realized by means of EU funding?
Answer
In order to replace as much plastic as possible with our biomaterial, we need to produce in large quantities quickly and thus also become competitive in terms of price. The topic of technology scale-up was therefore essential for us from the very beginning. Our proprietary and patent-pending technology is designed for scalability: The process is very efficient and environmentally friendly, and the residual material we work with is available in large quantities worldwide. Nevertheless, building up large production capacities does not happen overnight. On our pilot plant, we can now produce the first larger quantities of material, further optimize our processes, and launch the first pilot products on the market. With our next larger plant, we will then already be able to compete with bioplastics in terms of price. For this step, the funding from the European Innovation Council is of course an important financial support.
Question
How much interest is there from the industry? Are there any first customers and from which sectors do they come?
Answer
The demand is huge! We were very fortunate to have customers who saw the potential of Traceless right from the start. We are currently developing prototypes from our materials with some customers from the retail and consumer goods industries, which we would soon like to launch on the market as pilot products. Our direct customers from the plastics processing and packaging industries are also already showing great interest. And it is not only on the customer side that the positive response is there - we are already working with several other partners to jointly build a biocircular value chain.
Interview: Beatrix Boldt