Finnish UPM plans biorefinery in Leuna
Big news for the Leuna chemical site: The Finnish group UPM is investing EUR 550 million in an industrial biorefinery. The plant will produce green chemicals from wood.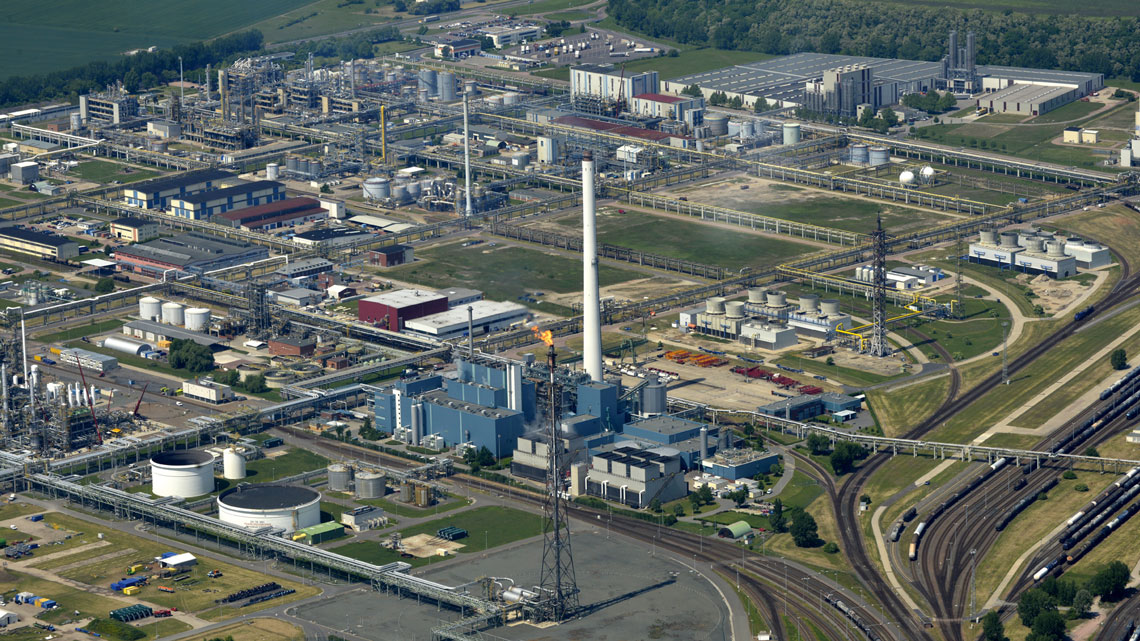 It is a big step on the way away from crude oil and towards a bio-based future: The chemical park Leuna, steeped in tradition, will become the site of an industrial biorefinery. Finnish group UPM, one of the world's leading manufacturers of paper, pulp and wood products, announced the plans on 30 January 2020. The company will invest the impressive sum of 550 million euros in the construction of the plant. The biorefinery will produce wood-based biochemicals. Saxony-Anhalt's Economics Minister Armin Willingmann announced that InfraLeuna GmbH will also invest around 100 million euros in the chemical park's infrastructure. Around 200 new jobs are to be created.
220,000 tons of annual production
The planned biorefinery will produce several chemicals: monoethylene glycol for textiles, PET bottles, packaging and deicing agents, monopropylene glycol for composites, drugs, cosmetics and detergents, as well as fillers to replace industrial soot and silicates and industrial sugar. Total annual production is expected to be 220,000 tonnes. UPM intends to use sawmill residues and sustainably certified hardwood from the region as raw materials. "Molecular bioproducts form one of UPM's three strategic focus areas for growth and are at the core of innovating for a future beyond fossils," Jussi Pesonen, President and CEO of UPM, explained the investment. "Currently the supply of biochemicals is very limited." This is another reason why the market for sustainable alternatives is very lucrative.
Short distances to raw materials and customers
In addition to the obvious improvement in the carbon footprint of otherwise oil-based products, UPM emphasizes regional and therefore sustainable production: "We can also take pride in creating an entirely European value chain, thus being a sustainable local producer," says Juuso Konttinen, Vice President of UPM Biochemicals. Furthermore, the products could easily be used in customers' existing production processes and integrated into existing recycling infrastructures. The Finnish group stressed the importance of Germany as a European centre for the chemical industry, as well as the proximity to key customers and the availability of sustainable forest management. The Fraunhofer Center for Chemical-Biotechnological Processes (CBP), a biorefinery research center, is also located in the neighborhood.
Start of production end of 2022
"The fact that the Finnish company has chosen Leuna is a clear indication of the competitiveness of the business location," commented Minister Willingmann with pleasure. The investment in the biorefinery will also make Saxony-Anhalt ever more a state of future technologies. UPM announced that it will immediately start tendering for the plant, the personnel expansion and the approval process. Production is scheduled to start at the end of 2022.
bl/um