Biobased wound dressing awarded a prize
A Fraunhofer IMWS research team has been awarded the Halle IQ Innovation Prize for the development of a wound dressing made of natural elastin.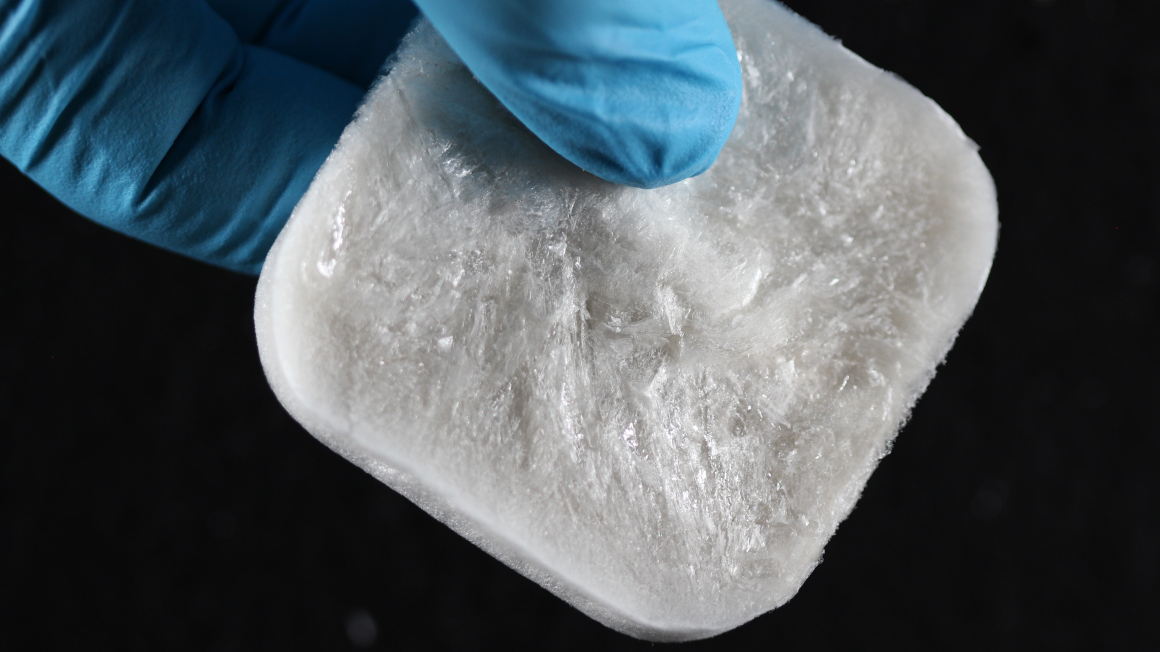 Elastin is one of the most important trace proteins that provide elasticity and resilience in tissues and organs of the human body. These fibers are a main component of connective tissue and can lose their elasticity with age, due to environmental influences or accidents, and thus impair wound healing. This decreasing elasticity makes healing more difficult, especially in the case of large-area and chronic wounds. Researchers at the Fraunhofer Institute for Microstructure of Materials and Systems IMWS have a solution for this. They developed a novel wound dressing made of natural elastin that improves the healing process. For this, the matriheal team was awarded the IQ Innovation Prize Halle. This comes with prize money of 5,000 euros.
Natural elastin from food
Christian Schmelzer, Tobias Hedtke and Marco Götze are the developers of this award-winning innovation. They have developed a special process that makes it possible to use natural elastin. This is obtained from by-products of the food industry, but cannot normally be processed in its raw form. However, the matriheal team converts the elastin into a water-soluble derivative, which in turn is processed into absorbable wound dressing materials in the form of nanofiber fleeces and protein sponges.
Improved wound healing
According to the researchers, the developed materials mimic the mechanical and biochemical properties of skin by combining natural biodegradable components using highly scalable manufacturing processes. Consequently, the microstructure of the biobased nanofiber nonwovens makes them particularly well suited for healing large-area wounds such as burns, while the swelling capacity of the protein sponges can fill defective tissue and deep wounds.
Business formation planned
In order to bring the innovative material to market, the founding of a company is planned. "We are convinced that this Halle innovation will be able to make an important addition to medical care in the future and thus improve the lives of many people," says Egbert Geier, mayor of the city of Halle (Saale). The IQ Innovation Prize is awarded by the city, Martin Luther University Halle-Wittenberg and Technologie- und Gründerzentrum Halle GmbH.
bb