Research factories for sustainable chemistry
A team led by Potsdam biochemist Peter Seeberger has succeeded in obtaining BMBF funding for the establishment of two large-scale research centers for the reorientation of chemical production in central Germany.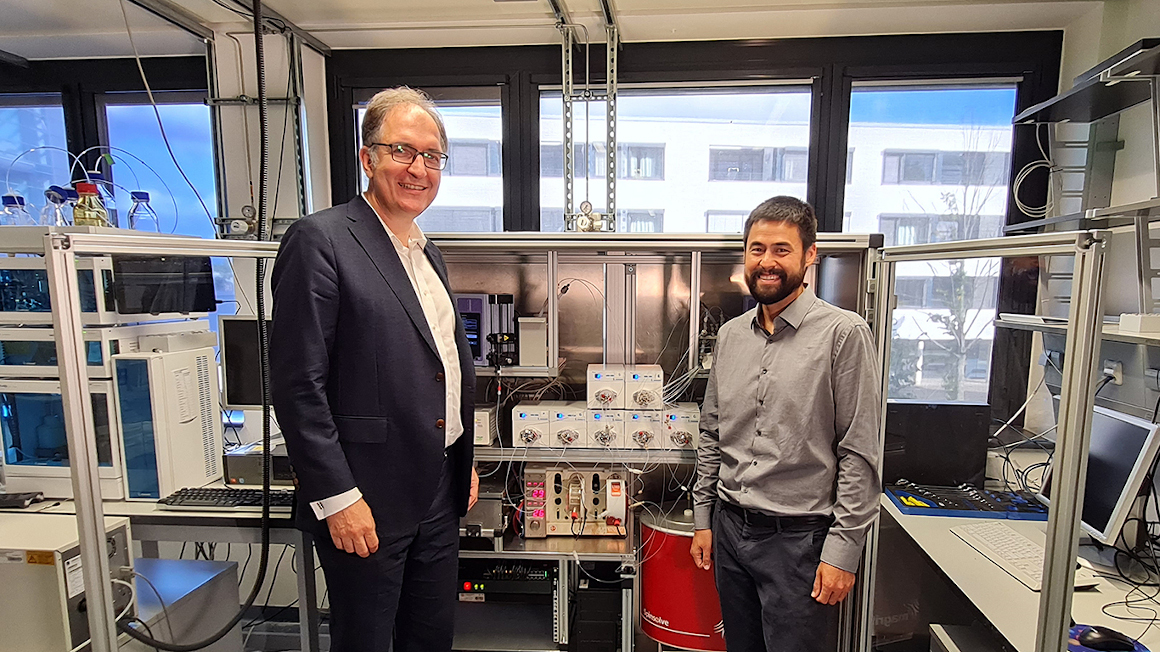 Source
Max-Planck-Institut für Kolloid- und Grenzflächenforschung
Earlier this year, Peter H. Seeberger was awarded the International Green Chemistry Prize for the production of a sustainable and cost-effective antimalarial agent. Now the biochemist from the Max Planck Institute of Colloids and Interfaces in Potsdam wants to drive structural change in Lusatia in Saxony and the Central German mining region together with his team. In the international competition "Wissen schafft Perspektiven für die Region!" ("Knowledge Creates Perspectives for the Region!") organized by the German Federal Ministry of Education and Research (BMBF), Seeberger came out on top with his concept for establishing two large-scale research centers. The team will receive initial funding of 500,000 euros to implement the project design "Chemresilienz – Forschungsfabrik im Mitteldeutschen Revier" ("Chemresilience - Research Factory in the Central German Mining Region").
Flagship of cutting-edge research
The aim of the Chemresilienz project is to establish a sustainable circular economy in chemical production through the use of renewable raw materials, short transport routes and local, cost-effective and sustainable production processes. "The new research center in Saxony will completely redevelop chemical production, which is currently based on fossil raw materials, and will have to catch up on 150 years of 'head start' to make an important industry sustainable," Seeberger says. He says he is convinced that "this center will become a globally visible flagship of cutting-edge research and a hub for relocations and spin-offs."
The competition "Knowledge creates prospects for the region!" was initiated by the BMBF in 2020 to contribute to structural change in regions affected by the coal phase-out and to open up new economic prospects. The Potsdam team's concept is one of six proposals selected by the BMBF for initial funding in July of this year.
Federal government invests 2.5 billion euros in large-scale research centers
Over the next six months, the teams are to develop a viable concept for the new research factories. An independent commission of experts, including Nobel Chemistry Prize winner Stefan Hell and astronaut Alexander Gerst, will first review these plans before the BMBF decides which concept will receive further funding. Starting next summer, two concepts are to be implemented. The establishment of the two large-scale research centers will be funded by the federal government until 2038 with 1.25 billion euros each.
bb