The new Bioeconomy Council
The new Bioeconomy Council has met for the first time. For the next three years, the 20-member body will advise the German government on the implementation of the National Bioeconomy Strategy.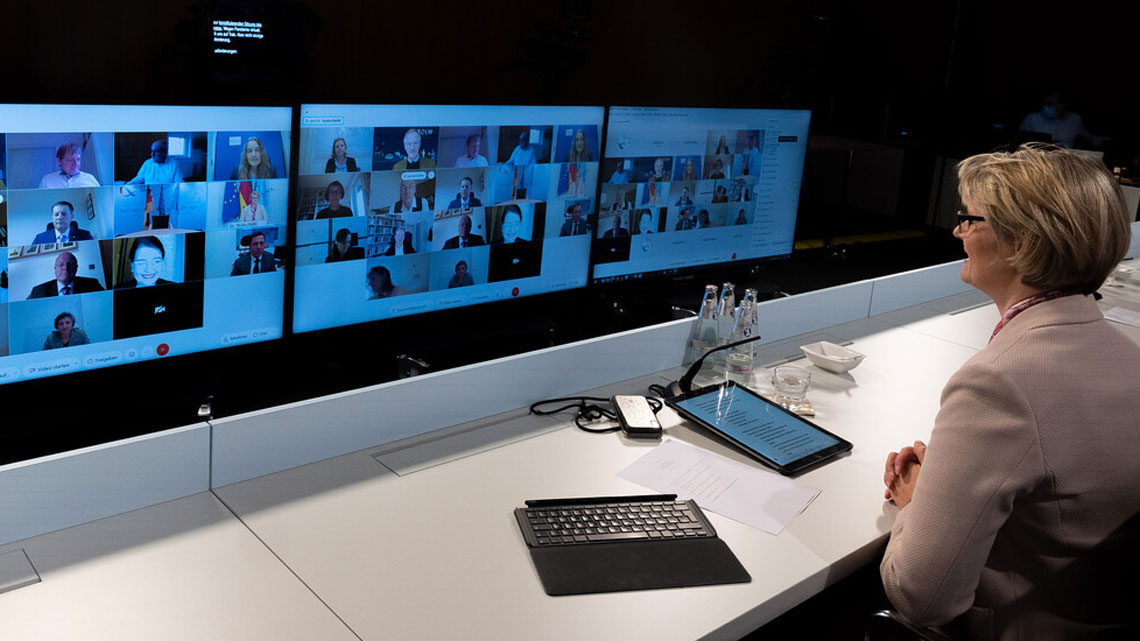 Source
BMBF/Hans-Joachim Rickel
Once again, Germany has a Bioeconomy Council: On December 7, 2020, the expert body met in a new composition and began its work - virtually, of course. There had already been a German Bioeconomy Council from 2009 to 2012 and from 2012 to 2019, which acted as an advisory body to the German government. The third council now has the particular task of accompanying the implementation of the National Bioeconomy Strategy adopted in January 2020.
Diversity of perspectives
The members were appointed by the Federal Ministry of Education and Research (BMBF) and the Federal Ministry of Food and Agriculture (BMEL). "I am delighted that we have been able to attract high-profile personalities from science, industry and civil society to the Council," said Federal Research Minister Anja Karliczek at the inaugural meeting. With their different backgrounds and expertise, the members covered a wide range of relevant perspectives on the bioeconomy. "It is precisely this complexity of perspectives that we need in order to prioritize goals in a knowledge-based manner and to weigh up options for action," Karliczek emphasized.
The Federal Minister of Research also took the opportunity to highlight the importance of the bioeconomy: "The bioeconomy provides us with a path to a sustainable future based on renewable raw materials and biological knowledge. It offers us the chance to effectively address the global challenges of climate change, species extinction and food security." Federal Minister of Agriculture Julia Klöckner expressed a similar view: "With the bioeconomy strategy, we want to become less dependent on fossil raw materials. Because what we would otherwise have to import grows on our fields."
A wide range of experience
The new Bioeconomy Council comprises ten women and ten men. Two experts from the second Bioeconomy Council are also members: Regina Birner, an agricultural and social economist, and Daniela Thrän, a systems scientist. Innovation researcher Stefanie Heiden was already a member of the first Bioeconomy Council. Peter Feindt and Michael Böcher bring the perspective of political science to the new Council. The newly appointed council members also include transformation researcher Maja Göpel (current bestseller: Unsere Welt neu denken ("Rethinking Our World")). Other members of the new council represent the perspectives of agricultural research, biotechnology and food technology, agriculture and forestry, as well as organic farming and nature conservation, among others.
The members of the 3rd Bioeconomy Council
Prof. Dr. Regina Birner, Chair of Social and Institutional Change in Agricultural 

Development, University of Hohenheim

Prof. Dr. Michael Böcher, Chair of Political Science with a focus on sustainable development, Otto von Guericke University Magdeburg
Dr. Viola Bronsema, BIO Deutschland e. V.
Prof. Dr. Thomas Brück, 

Werner Siemens Chair for Synthetic Biotechnology, Technical University of Munich

Dr. Jürgen Eck, bio.IMPACT
Prof. Dr. Peter Feindt, 

Albrecht Daniel Thaer Institute for Agricultural and Horticultural Sciences, Department of Agricultural and Food Policy, Humboldt University of Berlin

Prof. Dr. Maja Göpel, THE NEW INSTITUTE Foundation gGmbH
Prof. Dr. Ulrike Grote, 

Institute for Environmental Economics and World Trade, Leibniz University Hannover

Prof. Dr. Stefanie Heiden, 

Institute for Innovation Research, Technology Management & Entrepreneurship ITE, Leibniz University Hannover

Prof. Dr. Ralf Kindervater, BIOPRO Baden-Württemberg GmbH
Prof. Dr. Thomas Lemke, 

Chair of Sociology with a focus on biotechnology, nature and society, Goethe University Frankfurt

Prof. Dr. Iris Lewandowski, Department of Renewable Resources in the Bioeconomy, Chief Bioeconomy Officer (CBO), University of Hohenheim
Dr. Felix Prinz zu Löwenstein, 

Federation of the Organic Food Industry (BÖLW)

Prof. Dr. Kai Niebert, 

German Nature Conservation (DNR)

Prof. Dr. Monika Pischetsrieder, Chair of Food Chemistry, Friedrich-Alexander University Erlangen-Nuremberg
Prof. Dr. Klaus Richter, 

Chair of Wood Science, Technical University of Munich

Prof. Dr. Imme Scholz, 

German Development Institute (DIE)

Dr. Beatrix Tappeser, 

State Secretary (retired)

Prof. Dr.-Ing. Daniela Thrän, 

German Biomass Research Center (DBFZ)

Dr. Markus Wolperdinger, 

Fraunhofer Institute for Interfacial Engineering and Biotechnology (IGB)
Involving society
The Federal Minister of Agriculture also underlined the role that the Bioeconomy Council should play: "There is enormous potential in the bioeconomy. At the same time, we need to discuss limits and conflicting goals. After all, agricultural land is limited, and the main task of farmers remains the production of our food." These debates need to be conducted with the involvement of society, he said. "The Bioeconomy Council is a crucial body for this," Klöckner said confidently.
bl/pg