Marine algae to provide omega-3 fatty acids
The companies DSM and Evonik founded new joint venture "Veramaris" to produce omega-3 fatty acids from marine algae. Salmon farms will benefit from the new source of essential fatty acids.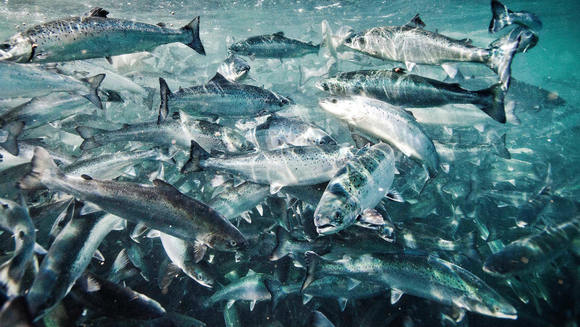 Humans and animals require omega-3 fatty acids for a healthy and well-balanced nutrition. These essential fatty acids consist of a family of polyunsaturated fats that also include eicosapentaenoic acid (EPA) and docosahexaenoic acid (DHA). Since the body can't produce them, omega-3 fatty acids have to be taken up through the diet or diet supplements. Many studies have shown that sufficient levels of omega-3 EPA and DHA support brain, eye, and heart health in multiple species, including humans. Moreover, research also suggests that omega-3 EPA and DHA may lower triglyceride levels (lipids) in the blood and have positive effects on arterial function. According to several health care officials fish and sea food should be part of our diet at least twice per week. This could reduce the risk of myocardial infarctions (i.e. heart attack) dramatically.
A German – Dutch joint venture
The Dutch company Royal DSM and the German expert for specialty chemicals Evonik Industries have announced their plans for a joint venture to produce omega-3 fatty acids from marine algae. This breakthrough innovation will enable the production of omega-3 fatty acids for animal nutrition without using fish oil from wild caught fish. Royal DSM is a global science-based company active in health, nutrition and materials. The joint venture, to be named "Veramaris" and headquartered in The Netherlands, will be finally realized subject to regulatory approvals and other customary closing conditions. The use of algae as an alternative source for omega-3 fatty acids as well as EPA and DHA is predominantly aimed at salmon farming as well as the market and production of pet food.
A new production facility in the US
Together the companies will build a commercial-scale production facility in the United States at an existing site of Evonik and it is expected to be fully functioning in 2019. The joint venture plans to invest around US$200 million into the facility (US$100 million by each party over circa 2 years). The first, pilot-scale quantities of the algal oil produced at DSM's facility in Kingstree in the US are already commercially available.
The initial annual production capacity will meet roughly 15% of the total current annual demand for EPA and DHA by the salmon aquaculture industry. Apart from the salmon farming industry also the pet food industry stands to benefit from the new algae-based production. Evonik's and DSM's highly concentrated algal oil will enable the animal nutrition industry to keep up with the increasing demand for these two essential omega-3 fatty acids without endangering fish stocks. This new joint venture will thus contribute to healthy animal nutrition as well as to the ecological balance and biodiversity of the oceans.
jmr