Compostable residential lab
Researchers from Karlsruhe have built an apartment near Zurich that consists exclusively of compostable and recyclable materials.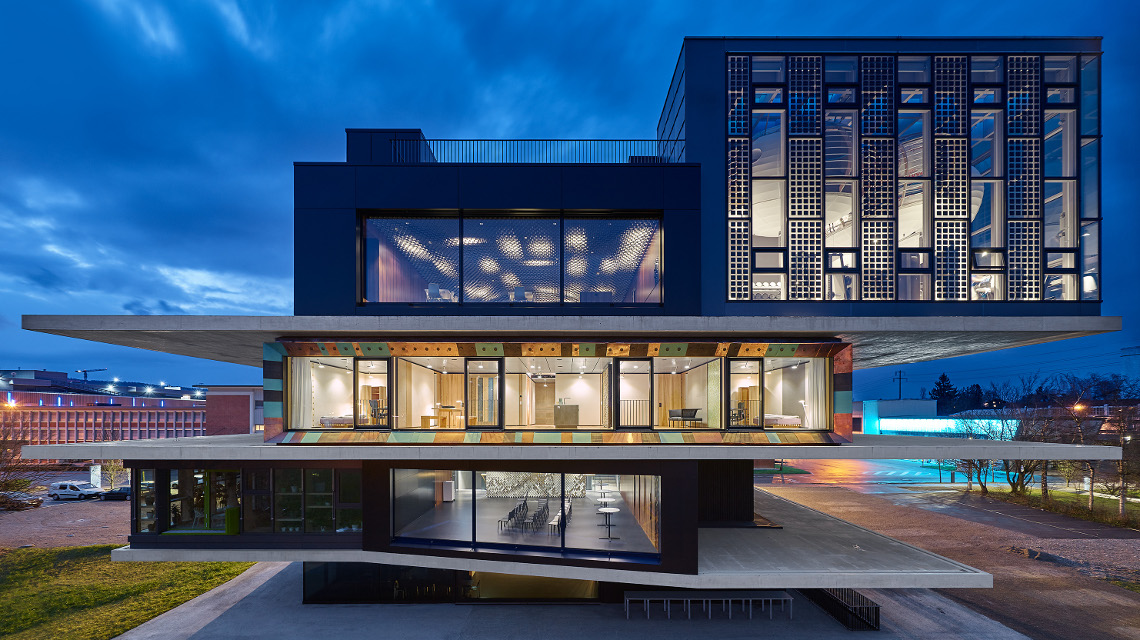 The increasing demand for living space is driving a rethink in the construction industry. Renewable raw materials such as wood or straw are becoming increasingly important in order to conserve finite resources such as sand, an important aggregate for concrete. To make construction more sustainable, scientists at the Karlsruhe Institute of Technology (KIT) are conducting targeted research into new materials that are not only environmentally friendly but also recyclable. The scientists are now demonstrating that sustainable construction is no longer a utopia with a test apartment near Zurich.
Proof of sustainable construction
The three-room apartment is used for research purposes and is an example of so-called "urban mining & recycling". With the help of the housing laboratory, the scientists want to drive the transformation of construction towards a closed-loop economy. "We want to prove that it is already possible today to build in such a way that all resources can be fully re-expanded and sorted according to type," says Dirk Hebel, head of the Sustainable Building Department at KIT.
The residential laboratory is part of the research and test building NEST (Next Evolution in Sustainable Building Technologies) in Dübendorf near Zurich, Switzerland, on the campus of the Swiss Federal Laboratories for Materials Testing and Research. The apartment was delivered ready to go and installed in the multi-storey test building within one day.
Used door handles and recycled waste
The apartment measures 125m2 and is made entirely of compostable and recyclable materials. For example, primary raw materials such as untreated silver fir were used for a large part of the façade, while old copper plates from a hotel roof in Austria were used for a new façade edging. The door handles in the living laboratory once adorned the doors of a bank in Brussels. But recycled waste materials and newly developed building materials were also used. For example, new bricks were made from building rubble and beverage cartons were processed into wall coverings. "Using this urban material warehouse serves sustainability and makes us less dependent on the raw materials market," says Felix Heisel, Research Manager at KIT's Sustainable Building department. In order to be able to recover and reuse the individual materials used here unmixed, the builders of the test apartment completely did without adhesives or foamers. Instead, the elements were screwed, glued or fitted.
Compostable insulation boards made of fungal fabric and sawdust
However, completely new building materials are also being used for the first time in the three-room apartment: the insulation panels are made of a compostable material developed by the Karlsruhe researchers. This is fungal mycelium, a material cultivated from fungal tissue and sawdust. "Our vision is to let houses grow in the future, so to speak, and to recycle the building materials once they have been used," says Hebel.
Living laboratory in everyday test
The residential laboratory opened in spring was developed in close cooperation with partners from industry and trade. The pilot project offers a unique opportunity to test new materials in practice. Over the next five years, the research team wants to observe whether their methods are proving successful and how the materials behave. "Testing innovations under real conditions builds a bridge from research to application, because the circular-flow economy needs new methods and products," emphasises Hebel. Two students who moved into the residential lab in May will supplement the study with experiences from everyday life.