Apple trees under solar panels
An agri-photovoltaic system was set up on an organic fruit farm in Gelsdorf, Rhineland-Palatinate, to explore its potential for fruit cultivation.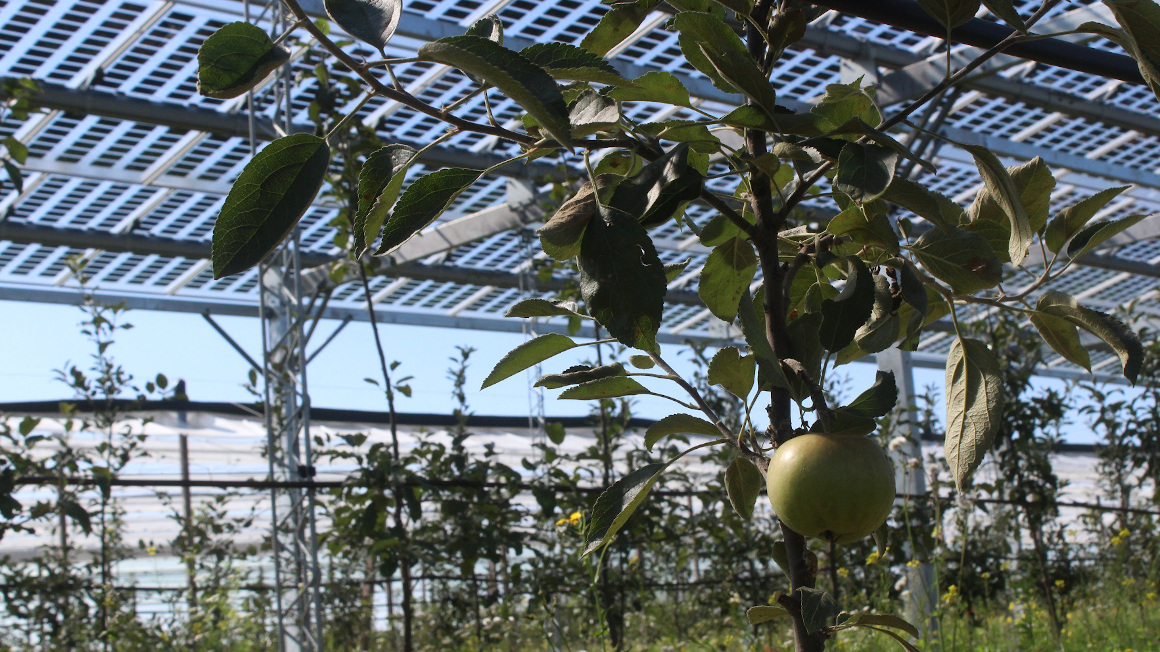 Weather extremes such as heat, drought or heavy rain have been putting pressure on agriculture for a long time and are increasingly causing crop failures. To respond to the challenges of climate change, new strategies are needed for the cultivation of fruit, vegetables and cereals. One promising approach is so-called agri-photovoltaics. Here, arable land is not only used to grow important food crops, but also to generate electricity at the same time. An initial pilot plant at Lake Constance proved to be economically viable after only a short time. Under the direction of the Fraunhofer Institute for Solar Energy Systems ISE, the cultivation of wheat, potatoes and celery under solar panels was tested.
A new research project is now examining whether fruit growing can also benefit from the positive effects of photovoltaics. For this purpose, researchers from Fraunhofer ISE and partners have set up an agri-PV system on an organic fruit farm in Gelsdorf in Rhineland-Palatinate. Eight apple varieties are growing here under solar panels on an experimental area of about 9,100 square meters. The Agri-PV Fruit Growing project will be funded by Rhineland-Palatinate and the German Federal Ministry of Food and Agriculture (Bundesministerium für Ernährung und Landwirtschaft, BMEL) over the next five years. The aim is to increase climate resilience in fruit growing and to ensure safe and sustainable apple production with additional solar power generation.
Reducing CO2 emissions
"The research project 'Agri-PV Fruit Growing' is not only intended to show ways to reduce CO2 emissions in agriculture, but also to avoid the use of short-lived materials, pesticides and fungicides, thus making a decisive contribution to climate protection," explains Andreas Steinhüser from Fraunhofer ISE. In addition to Fraunhofer ISE, BayWa r.e. is also involved in the project. The company has already had positive experience with Agri-PV systems and sees it as a "long-term solution to help farmers adapt to the consequences of climate change," as Stephan Schindele explains. "After having very successfully realized professional berry cultivation through Agri-PV in the Netherlands, we are taking the important step towards espalier fruit in Gelsdorf. We recognize that the potential of Agri-PV for apples, pears, cherries, kiwis and other permanent crops can be significant."
Showing benefits to farmers
The project partners want to find out to what extent Agri-PV systems can also protect plants and fruit from damaging environmental influences such as hail, heavy rain, sunburn, frost or extreme temperatures. The results of apple production under solar panels will also be compared with cultivation under film and hail protection systems. In addition, tests will be conducted to determine the extent to which different photovoltaic modules - fixed, light-permeable and rain-permeable - affect plant growth and agricultural yields.
Questions such as acceptance and social compatibility of such plants are also to be answered and the economic advantages of cultivation communicated to farmers. The project team is convinced that not only would energy costs in fruit growing be permanently reduced and better calculated, but there would also be fewer investment costs to protect the fruit, as well as fewer operating resources and disposal costs. In the project, for example, the electricity generated during apple production is made available to the project partner AGCO GmbH for charging the battery-electric tractor, and the company's own irrigation system is also supplied with this electricity. As a result, CO2 emissions on the organic farm are to be significantly reduced and fruit cultivation is to become climate-neutral.
bb