Standing up for the soya bean
Martin Miersch
Profession:
Agricultural engineer
Position:
Manager of the Landwirtschaftliches Zentrum für Sojaanbau and Developer at Life Food GmbH / Taifun-Tofuprodukte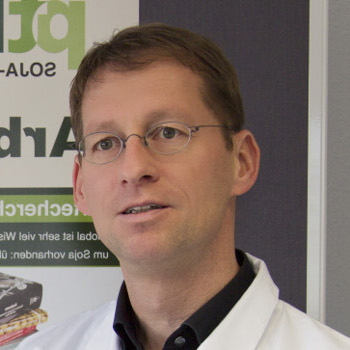 Profession:
Agricultural engineer
Position:
Manager of the Landwirtschaftliches Zentrum für Sojaanbau and Developer at Life Food GmbH / Taifun-Tofuprodukte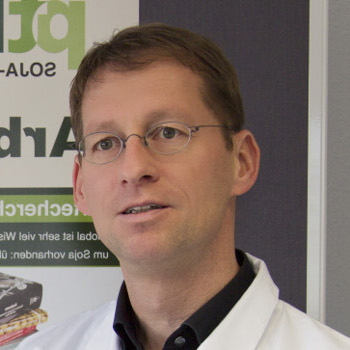 Martin Miersch wishes to drive soya cultivation in Germany forward. The agricultural engineer spends his time at Taifun, the organic tofu manufacturer, looking for the ideal bean for his tofu.
The soya bean has long offered vegetarians and vegans an alternative to animal protein. Be it fresh fare or soya beans processed into soya milk and tofu - the millennia-old crop has since secured its place on supermarket shelves. Yet, the East Asian legume continues to be a niche product on German farms. In Germany, the majority of soya plants are processed into animal feed. Soya expert Martin Miersch is convinced that "in discussions on the topic of feeding the world sustainably, we shouldn't think of soya plants as mere animal fodder". The agricultural engineer has dedicated his life to "standing up for" the soya bean across Germany and persuading organic farmers there to cultivate it. Against this background, the product development manager with soya manufacturer Taifun went on to do more, developing a particular kind of breeding process, whereby business experts, plant researchers and ordinary citizens work side by side: the "1000-Gärten-Projekt" [1000 gardens project].
Even as a teenager, the Wolfsburg native surprised his parents with his enthusiasm for home-grown produce, targeting agricultural companies for his school work placement. "Organic farming was just starting to emerge. I was fascinated and inspired by John Seymour's books", recalls Miersch. But as the son of an engineer who had been employed by the auto manufacturer Volkswagen, Miersch initially felt obliged to follow in his father's footsteps and spent two years studying Physics in Braunschweig before turning his attention to his "one true love; agriculture", as he puts it. In the early '90s, Miersch finally studied Agricultural Science at the University of Kiel, following a two-year farming apprenticeship with organic companies.
Fascinated by the unknown
The recent graduate subsequently gained his first practical work experience at the former Institut für umweltgerechte Landbewirtschaftung in Müllheim/Baden. It was here that he researched how ecological farming can safeguard drinking water. He worked closely with organic farmers and came into contact with soya experiments for the first time. "As a young agricultural engineer, I was suddenly part of a world that had not yet gotten off the ground in Germany, but it was a possibility. Of course that was far more exciting than the further optimisation of wheat and barley cultivation", recalls Miersch. His enthusiasm for legumes was awakened and he couldn't shake it. He became a member of the Deutsche Sojaförderring where he advised organic farmers on how to grow their own soya, and also gained new partners. The organic tofu manufacturer, Taifun, first became aware of the hard-working soya bean expert in 1997. Miersch worked as an external advisor with the Freiburg-based organisation for almost three years. He immediately transferred to his current company thereafter. Since 2000, Martin Miersch has been managing the soya development centre at Life Food GmbH/Taifun Tofuprodukte.
Tapping into new areas for soya growth
It's not without lack of work: For many years, farmers in Germany have been cultivating sustainable soya plants. In 2015, more than 17,000 hectares across Germany were used for soya farming. The small pulse flourishes particularly well in southern regions such as those close to the river Rhine. But the demand is much higher than local supply yields. Up to 99% of Germany's soya demands are met by importation. The majority comes from South America, where it is cultivated as a huge mono-culture, to the detriment of the rainforests. Miersch: "We want to grow the plant outside of typical soya regions and cultivate it in cooler climates, such as northern Germany. But we were missing the right kinds of soya beans until now." 
Growing soya in "1000 gardens"
As manager of the Landwirtschaftliches Zentrum für Sojaanbau und Entwicklung, Miersch has spent over 16 years searching for the ideal bean for his tofu. "For a long time, many promising cross-breeds could be found in my garden", the researcher reports. But to find out which types would grow and flourish best in which region, Taifun had to set up the "1000-Gärten-Projekt", led by Miersch in collaboration with plant breeders at the University of Hohenheim. It's the biggest experiment Germany has ever seen (see section below): In 2016, 2,400 home gardening enthusiasts, professional gardeners and farmers from the North Sea to the outskirts of the Alps took part in the project with the aim of growing their own soya. A total of 1,700 strands of soya bean were made available for the experiment with each gardener receiving twelve different types respectively to sow in their garden.
Soya experiment receives great response
Gardeners must monitor the development of their plants, from the time the seeds are sown until they are ready to be harvested. The outcomes are to be shared with Miersch and his project partners at the University of Hohenheim. It's a breeding experiment that does not require any genetic modifications to take place in the lab: the best strains are to be identified by observing their phenotypical properties, which in turn act as the foundation for further breeding activities. "We were taken aback by the response. There were people who had dug-up parts of their lawns because the project was so important to them. That was really touching", says Miersch, whose own family took part too, of course.
1000 gardens
Thanks to home gardening enthusiasts, professional gardeners and farmers, different strains and types of soya beans are to be grown in the most diverse of areas, with the aim of scientifically evaluating the outcomes. The project "1000 Gärten" is being carried out by tofu manufacturer Taifun in collaboration with the University of Hohenheim.
Finding the perfect soya bean
The "1000-Gärten-Projekt" is very ambitious: it is hoped that it will find soya bean species that are not only able to withstand the cold and ripen earlier, but also satisfy the many requirements of the tofu manufacturer. "The ideal soya bean should contain between 43-45% raw protein in its dry form. We intend to produce a lot of tofu from this. The product should have a certain consistency and not taste like a bean", says Miersch as he explains the desired properties of the perfect type of bean.
Soya growth in Germany a success
Meanwhile, the gardening enthusiasts' yields have been analysed in labs at the University of Hohenheim. Although the project is not yet complete, some conclusions can already be drawn: "Soya can grow in almost every area of Germany – even in regions of extreme height. We've identified the correct cross-breeds for each part of Germany", says Miersch. However, further tests will now have to be taken to reveal if the strains of soya bean are suitable for tofu production. "First, these promising cross-breeds will be tested in the tofu lab and then re-grown by the university to see if they can deliver."
Growing interest in soya
It will take some time for the ideal soya bean to be identified. Yet, Miersch also believes that more fellow campaigners are needed to further expand soya cultivation in Germany. "I wish that more companies would pledge to identify soya in their regions and work together to nurture and further advance this delicate little plant through soya cultivation in Germany." The soya expert is confident, however, that once the "1000-Gärten-Projekt" is complete, contracts for crop growing could increase greatly in Germany. "At Taifun, we receive enquiries almost every day. Farmers are definitely interested."