Green Chemistry meets Pharma
Sonja Jost
Profession:
Industrial engineer/Chemist
Title:
Director of Berlin-based start-up Dexlechem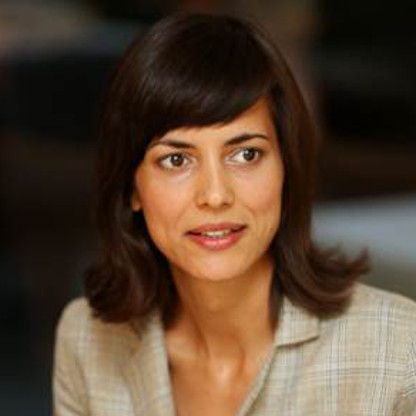 Profession:
Industrial engineer/Chemist
Title:
Director of Berlin-based start-up Dexlechem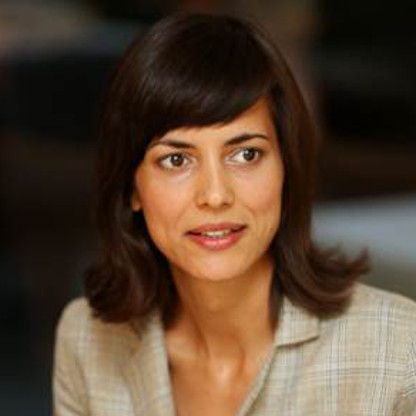 Sonja Jost is an expert in the area of chiral catalysis. The engineer is the director of Dexlechem, a Berlin-based start-up that has already begun to make the business of synthesising drugs easier on the environment.
Sonja Jost's message is that the term "green chemistry" need not be a contradiction in terms. Her curiosity and passion for analysis led the native of Lower Saxony to a business idea with the potential to revolutionise the pharmaceutical industry. As part of the UniCat Cluster of Excellence, the expert on chiral catalysts developed a process at the TU Berlin that involved replacing petroleum-based solvents used in drug manufacture with water, and conserving and recycling precious-metal catalysts. In 2013, the scientist struck out on her own, founding the Berlin-based start-up Dexlechem to bring the technology to market. Jost and her team feel indebted to the forefathers of "green chemistry". Her goal: to turn Dexlechem into one of the largest chemistry companies.
When Sonja Jost explains her business idea, her enthusiasm is palpable. Pride and determination resonate in her voice when she talks about it. That same determination she is now bringing to bear to awaken others' enthusiasm for her idea. Three years ago, the researcher and her partners got together to found Berlin-based start-up Dexlechem with the goal of bringing her process for the reusability of chiral precious-metal catalysts in the chemical-pharmaceutical industry to market. "I wanted to do something. I knew of so many brilliant inventions that were never developed as industrial applications and I thought to myself, 'I need to take this on myself to square the circle'," explains Jost.
Passion for methodological data
Like all children, Jost was driven by curiosity. She was equally interested in politics, history and chemistry. But her preference for methodological data was already evident during her school days in Lower Saxony. Her passion for chemistry came later, in the run-up to her graduation from high school. "Figuring things out, working things through and making calculations" was clearly second nature to an engineer's daughter. From 1999 to 2005, Jost studied Industrial Engineering and Technical Chemistry at Berlin Technical University (TU Berlin). "What I enjoy most about technical chemistry is the ability to make solid predictions."
Understanding and improving things
From 2006, as part of the UniCat Cluster of Excellence, Jost was given the opportunity at the TU Berlin to develop an environmentally friendly and low-cost chiral catalysis process under the guidance of her doctoral supervisor Reinhard Schömaker. Her curiosity led her to success in 2009. "As Goethe's Faust proclaims: Wie alles sich zum Ganzen webt, Eins in dem andern wirkt und lebt! [How each the Whole its substance gives, Each in the other works and lives!] – this fascination to be able to understand and improve things also drives me," says Jost.
Water replaces petroleum-based solution
Active molecules exist in different 3D versions. As each 3D version possesses different properties, in drug production it is important to manufacture only a very specific version. That leads to what is known as chiral medication. Jost has since developed a process that replaces petroleum-based solvents used in pharmaceutical production with water. The procedure is particularly unique in that the expensive precious-metal catalysts employed in solvent production are no longer destroyed, as was previously the case. Instead they remain intact and can therefore be reused. That makes the process both economically attractive and environmentally friendly.
Big Pharma gets on board
Pharmaceutical and generic drug companies require expensive precious metals such as rhodium or palladium to act as catalysts in the production of most medication. "Our procedures are particularly relevant to any situation involving the use of homogeneous catalysts, such as in the fine chemicals industry. We also use a lot of methods from computational science to develop our procedures for the reuse of catalysts. Now we are even in the position to extend those to biotechnical applications," explains Jost. That could lead to a 20 per cent reduction in the cost of drug manufacture. Thus far, they have already gained customers such as Swiss manufacturer Lonza and Sanofi-Aventis.
It took several years of work and some tough times before Dexlechem could be set up. Initial tasks included getting a team together and securing funding. Not only Sonja Jost's family but also Schomäcker, her doctoral supervisor, and Peter Strasser, her mentor, encouraged her to stick at it. With funding from the Federal Ministry of Economic Affairs' "EXIST" research programme for start-ups, Jost was able to develop her process further until it became a technical reality.
Awards for sustainable technology
Green chemistry was still in its infancy in 2013 when Dexlechem was set up, but there was an awareness across society of the need for a sustainable economic model. Dexlechem has since received numerous awards for its innovative process. It was one of the 2013 winners of the Science4Life Venture Cup. In 2015, it received the "Next Economy Award" from the Stiftung Deutscher Nachhaltigkeitspreis.
Some of the major chemical and pharma groups also sat up and took notice at an early stage: in 2014, Bayer Pharma, one of the first start-ups in the life science sector, chose Dexlechem as a strategic partner for its "CoLaborator" programme in Berlin. In the new start-up centre, laboratory and office space was leased. Working in close proximity to other chemical and pharmaceutical companies offers opportunities for networking amongst life science start-ups, industry and science.
Dexlechem was of one of the first start-ups to move into the newly opened CoLaborator at Bayer's Berlin premises.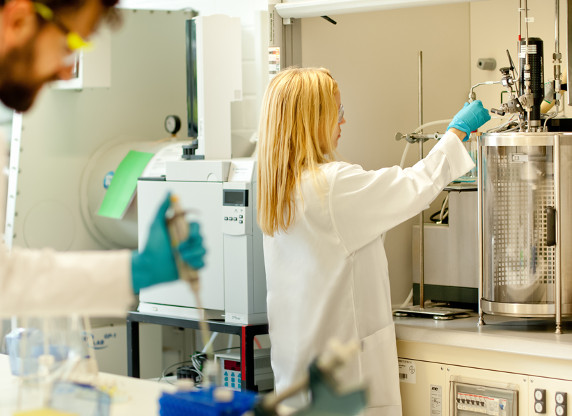 Following in the footsteps of the original "green chemists"
With her company the Berliner does not only feel a responsibility towards her own idea, but also towards those she looks up to, Paul T. Anastas and John C. Warner, the forefathers of "green chemistry". To Jost, their 12 principles are both a message and a plan of action to make the chemical industry, a sector that depends on finite resources, viable for the future. "Even if precious metals and petroleum are still widely available today, we still need to start setting the stage for alternative production methods." That is because it takes many decades for completely new processes to be developed.
Society-wide chemistry compact called for
Jost is keenly aware of the challenges involved. As the director of a green start-up, she looks for allies in the form of NGOs and governmental organisations, and for support in her own network "Chemistry for Innovations". "To be able to overcome these major challenges, we need a wave of start-ups in the chemical industry. Society must establish a framework for it, however. We're calling for a chemistry compact across society as a whole", appeals Jost.
Despite carrying out research, running her own company and getting involved in social matters, the superwoman still makes time for hobbies. Alongside kayaking, she also writes stories on topics that move her. And chemistry plays a role in that too. Her work ethic and delegation of responsibility give Jost the freedom to recharge her batteries. "I don't feel the need to do everything myself. That's the difference between me and a lot of others. I have an unbelievably good team." With her business model and her dedication to green chemistry, the young entrepreneur has long striven to gain the respect of the major players in her sector. Her goal is set: "We at Dexlechem believe that we have the potential to become one of the bigger newcomers in the chemical industry."