Food Innovation Award for Berlin Uni teams
Students from TU Berlin triumphed in the TROPHELIA ideas competition with a triple victory and a special prize for vegan product ideas.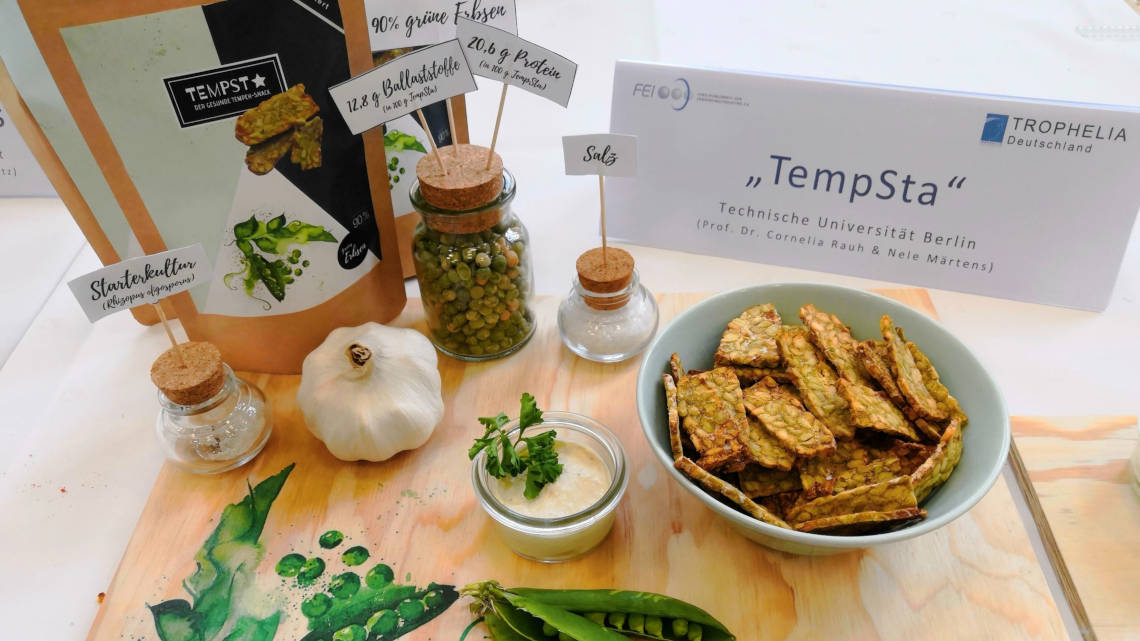 Every year, the TROPHELIA competition honors innovative ideas in the food sector. This year, students from the TU Berlin ranked first to third at the national level and also took home a special prize. All three teams competed with vegan products. The idea competition was organized for the tenth time by the Research Association of the German Food Industry (Forschungskreis der Ernährungsindustrie e.V. - FEI). This year, ten teams entered the competition.
Regional and healthy
The first prize went to "TempSta", an alternative to the traditional Indonesian cracker Tempeh. However, the students Sakura Yagami, Cigdem Özbilen, Imani Reiser, Carla Großpietsch and Deborah Becker replaced soybeans with regionally grown peas in order to reduce transport distances for raw materials. Hot-air frying reduced the fat content. As a result, the cracker is rich in vitamins and minerals and free of lactose and gluten.
Dessert and savory snack
"Mi-Weiz", a Syrian-style dessert, won second prize. It consists of wheat grains, buckwheat and sweet lupins and is therefore rich in nutrients. The trick in the production is a treatment with ultrasound. Third place and the special prize for the most innovative product idea went to "Dulsey", a vegan beef-jerky alternative. The savory snack contains beetroot, red cabbage and red algae. Wet-extruded pea protein gives it a meat-like texture.
Three other teams had competed in the final. They presented the vegetarian toaster snack "veTo" based on chickpeas, "CineBalls", an alternative snack for the cinema, and the muesli balls "Yolu".
European Competition in October
"I would like to express my thanks to all the teams that took part - there is so much creativity and expertise in the fantastic ideas," praised Georg Böcker, speaker of the TROPHELIA jury. He was sure: "With 'TempSta', Germany has the very best chances of winning the European ECOTROPHELIA competition as well". The EU competition will take place on 6 and 7 October in Cologne.
bl/um