Discovering new sources of protein
Six Fraunhofer institutes want to use insects, algae, fungi and plants as protein sources for new foods.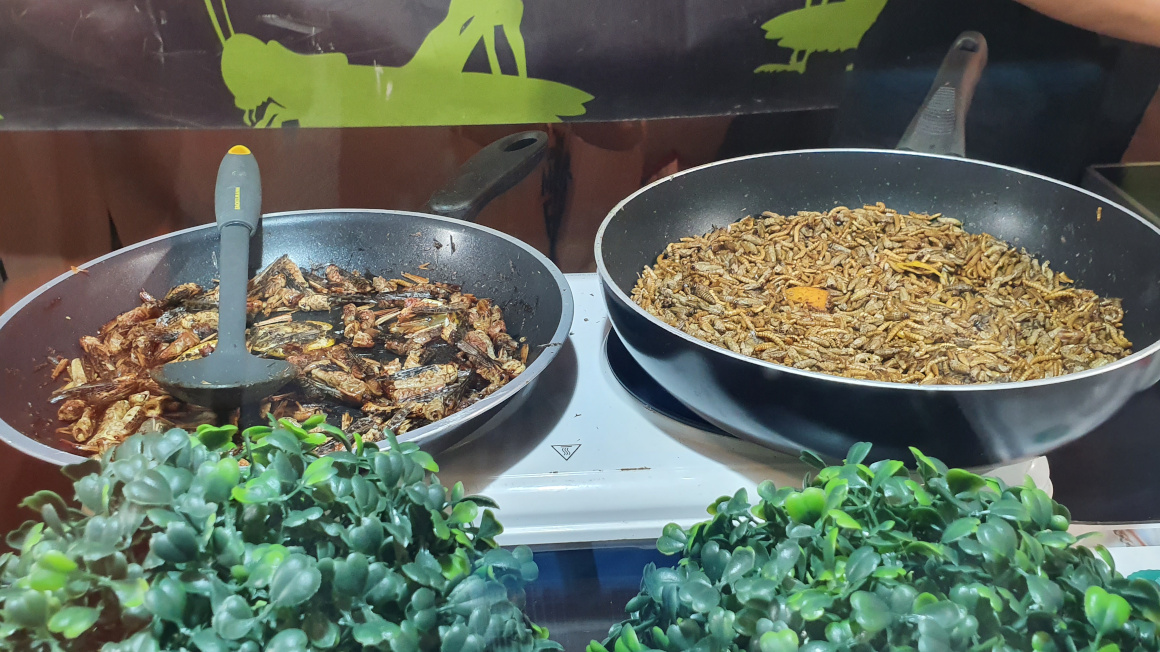 Proteins form an important part of our diet. The vast majority of vital nutrients are still covered by animal protein sources such as meat. Yet factory farming, pesticide use and climate change are increasingly endangering soils and groundwater and putting pressure on agriculture. The switch to new protein sources can be a solution. This is where the FutureProteins project comes in. Researchers from six Fraunhofer institutes are working together to develop novel protein sources as an alternative to meat and turn them into new food products. The project is coordinated by the Fraunhofer Institute for Molecular Biology and Applied Ecology (Fraunhofer-Institut für Molekularbiologie und Angewandte Oekologie, IME).
Establishing new agricultural systems
The focus of the project is not only on insects such as mealworms, but also on microalgae, fungi and selected plants such as potato and alfalfa as new sources of nutrients. At the same time, in order to develop and make the best possible use of these novel protein sources, agricultural systems are needed that enable both sustainable production and efficient use and recycling of all by-products and residues. The FutureProteins project therefore aims to target four agricultural systems that meet the principle of a circular economy: Vertical Farming for plants, Insect Farming for insects, Bioreactors for fungi, and Photobioreactors for algae.
The project will also investigate the extent to which these four agricultural systems operate cost-effectively and conserve resources. To this end, energy, waste and wastewater flows and reprocessing methods are to be analyzed and evaluated. Researchers from the Fraunhofer Institute for Machine Tools and Forming Technology IWU will test whether the systems are also energy-saving. "It all has to work highly efficiently and with the fewest possible emissions. In concrete terms, for example, we will then be looking at very obvious questions, such as how to reuse heat generated during biological processes," explains Maximilian Stange from Fraunhofer IWU. His team will also examine whether the materials used for pumps or energy storage systems are environmentally friendly and economical.
The following Fraunhofer Institutes are collaborating in the FutureProteins project:
Fraunhofer Institute for Molecular Biology and Applied Ecology IME • Fraunhofer Institute for Process Engineering and Packaging IVV  • Fraunhofer Institute for Interfacial Engineering and Biotechnology IGB • Fraunhofer Institute of Optronics, System Technologies and Image Exploitation IOSB • Fraunhofer Institute for Machine Tools and Forming Technology IWU • Fraunhofer Institute for Environmental, Safety and Energy Technology UMSICHT
Optimizing and refining new proteins
Ultimately, the project also aims to optimize and refine the sensory and functional properties of the new protein sources in order to expand the range of uses of the nutrients for food and improve their acceptance by the general public. For example, bitter substances are to be banned from potato proteins, which have so far impaired the flavor. Production of the new protein sources in closed cycles would have many advantages: Consumption of water, fertilizers, pesticides and antibiotics would be significantly reduced. Meat consumption and greenhouse gas emissions associated with animal farming would also decrease, making food production more sustainable overall.
bb