Designer wooden eyewear win PlanB award
With its solid wood glasses, the start-up freisicht has won the Bavarian start-up competition PlanB. For the third time, the event awarded business ideas for the bio-based economy.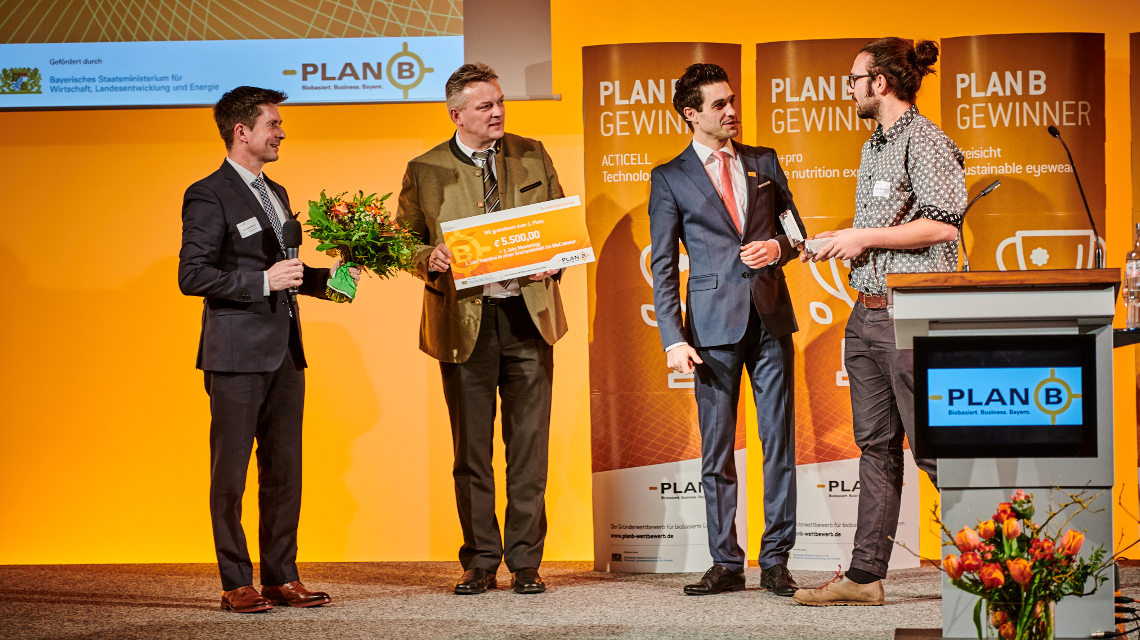 The "PlanB - Biobasiert.Business.Bayern" start-up competition, launched in 2015, focuses on biobased business ideas that contribute to the sustainable development of society. The competition initiated by BioCampus Straubing on innovations for the bioeconomy was once again held in the presence of representatives from industry, politics, investors and industry experts. Thirty green start-ups fought their way through the stages of the competition launched in August, optimised their ideas and finally qualified for the finals with their PlanB deck. At the end of January, the nominees had to compete in a live pitch at the Sennebogen Academy in Straubing in front of the jury and a large audience with their green business ideas.
Adaptable wooden glasses inspire jury and audience
The Freising-based start-up freisicht - sustainable eyewear GmbH emerged as the winner this year. The team around Sebastian Wittmann convinced not only the jury members but also the audience with designer glasses made of solid wood that can be individually adjusted. "The previous production of wooden components is basically a compromise solution. freisicht combines solid wood with formability and the desired strength," explained the developers. With the victory, the start-up company secured prize money of 5,500 euros and a starter unit in the Straubing BioCubator start-up centre.
PLANB START-UP COMPETITION 2018
Everything you need to know regarding the "PlanB start-up competition":
Second place went to the start-up Acticell from Vienna. Christian Schimper and his team received an award worth 3,500 euros for their idea of ecological jeans bleaching. The third place winners, the founders of a+pro from Lemgo in North Rhine-Westphalia, received 2,500 euros. Timo Broeker's biotechnologists were honoured for developing a method that fractionates plant proteins and makes them available once again for the food industry.
New start-up competition in 2020
In addition, the award-winning green start-ups also benefit from the contacts made during the competition at coaching workshops and business-to-business talks. The next PlanB start-up competition is planned for 2020.
bb/um