Consumer demand for environmentally friendly products is growing: by 2024 this will lead to a global increase in bioplastics production of more than 15%, a recent market analysis by European Bioplastics shows.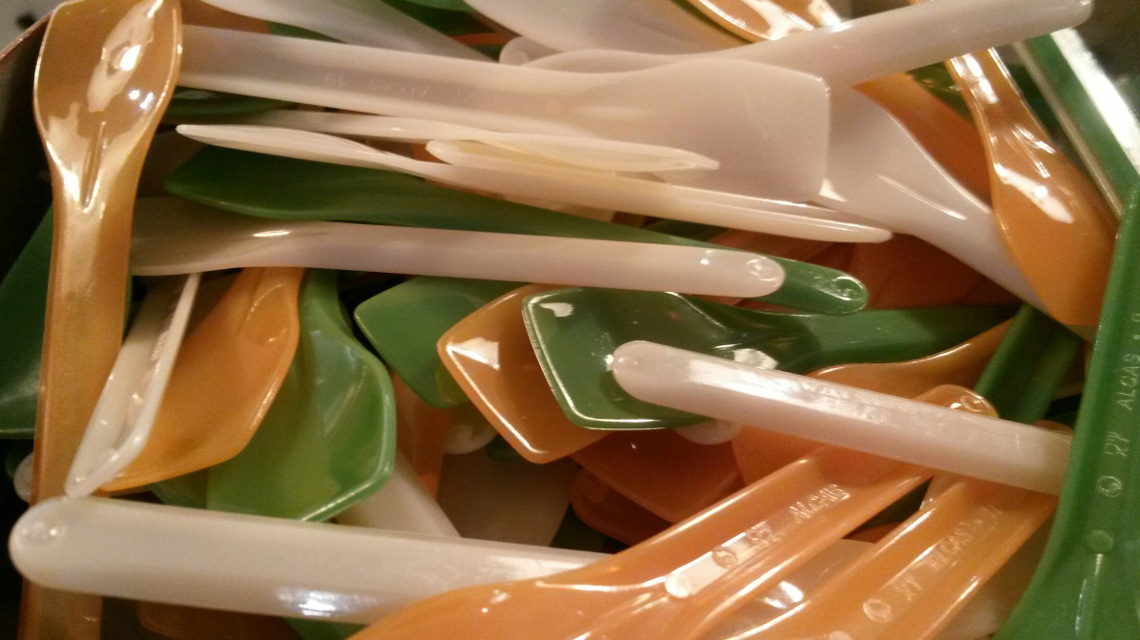 The world of fossil plastics is slowly shrinking. More and more new alternative plastic products based on renewable raw materials or residual materials are conquering the market. Even if not all new bioplastics are also biodegradable, the production of environmentally friendly materials will continue to increase. This is the result of the current market analysis by European Bioplastics and the nova-Institut, which was presented in Berlin in early December.
Growth of more than 15% predicted
"In an increasingly environmentally conscious context, the global market for bioplastics is predicted to grow by more than 15 percent over the next five years," says Hasso von Pogrell, Managing Director of European Bioplastics. Specifically, global bioplastics production is set to increase from 2.1 million tons at present to 2.4 million tons in 2024. "This trend is possible thanks to the steadily increasing demand for sustainable products by both consumers and brands alike and the continuous efforts of the bioplastics industry to develop innovative materials with improved properties and new functionalities," explains Pogrell. The authors of the study are convinced that consumers will continue to boost the industry and ensure dynamic growth in the future.
Innovative biopolymers fuel the upswing
According to the study, the growth of the sector is mainly driven by innovative biopolymers such as polyhydroxyalkanoates (PHAs), but also polypropylene (PP). It is predicted that the PHA group will see a more than threefold increase in production capacities over the next five years. This bacterially produced polyester is not only biobased and biodegradable, it also has excellent physical and mechanical properties for a broad range of applications. Production capacities of polypropylene are set to almost sextuple by 2024. Its high barrier properties already make PP the second most important plastic.
Forecast of global production capacities for bioplastics 2019-2024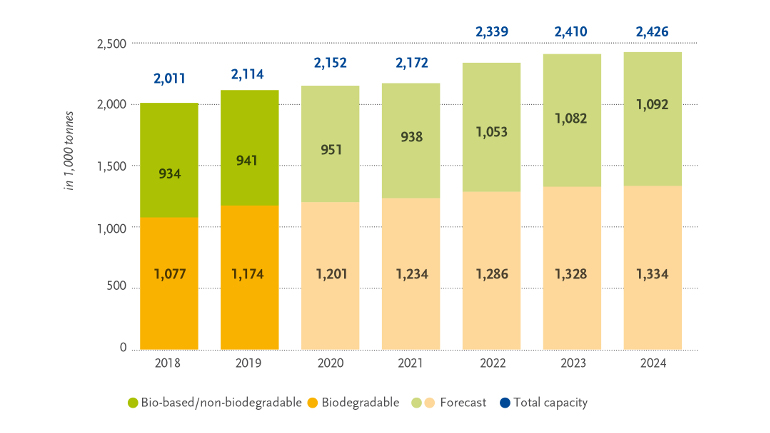 Source
European Bioplastics; nova-Institute (2019)
PEF crowds out PET
The study focused on various biopolymers, both bio-based but non-biodegradable, and biodegradable plastics. Biobased, non-biodegradable plastics, including polyethylene (PE), polyethylene terephthalate (PET) and polyamides (PA), currently represent around 44% of global bioplastics production capacity, at almost 1 million tonnes. While growth is expected for PE, production capacities for PET remain below earlier forecasts. Instead, the trend is moving towards a new polymer, polyethylene furanoate (PEF), which is similar to PET but completely bio-based. The material is still in development and is not expected to be on the market until 2023.
Packaging industry still largest field of application
At 53%, the packaging industry remains the largest area of application for bioplastics. However, bioplastics are also being used more and more in other sectors such as the automotive industry or transportation. The analysis also shows that the production of bio-based materials is hardly at the expense of cultivable land. "94 percent of all arable land is used for pasture, feed and food," said Francois de Bie, Chairman of European Bioplastics. With a share of 45%, Asia currently dominates global bioplastics production. Europe is home to around a fifth of the producers.
bb/um