Building houses from fungi
Vera Meyer
Profession:
Biotechnologist & artist

Position:
Head of the Department of Applied and Molecular Microbiology at the TU Berlin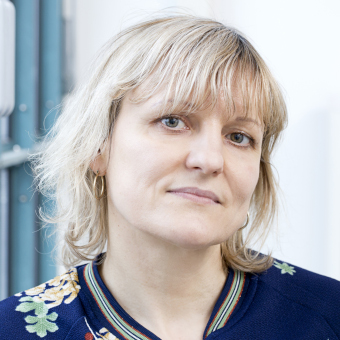 Profession:
Biotechnologist & artist

Position:
Head of the Department of Applied and Molecular Microbiology at the TU Berlin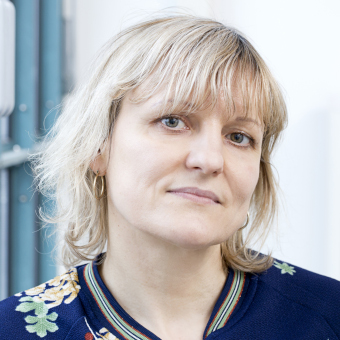 Vera Meyer is fascinated by fungi: As a biotechnologist, she wants to use the metabolic potential of the living organisms to breathe life into the bioeconomy – but she also wants to inspire with art.
Fungi are usually eaten or used to make cheese or beer. However, for Vera Meyer they are more than that. As a biotechnologist and artist, she is well aware of the diversity of the species and their potential, for the bioeconomy in particular. This is because fungi can not only be used to produce new composites and packaging, but also clothing, furniture and building materials. Meyer's vision of living in fungi houses not only drives her research: as an artist, she forms these multi-talents into sculptures in order to bring the diversity of fungi to a wider public.
Question
How did you come to the idea that you could build houses with fungi?
Answer
For more than 20 years my team and I have been researching fungi as producers of proteins, enzymes, drugs, platform chemicals and biofuels. Then, about five years ago, I began to take an interest in Basidiomycota. They are the only microorganisms that can completely biodegrade plant lignocellulose. The trick is to cultivate the Basidiomycota in a controlled manner on lignocellulose-containing plant residues to produce very stable but also very light composites. These can in turn be used to produce furniture, clothing or building materials. To me, building houses with fungi was the obvious next step: in a future in which climate change, rising sea levels and thus migration will shape our daily lives, houses made of fungi could be a utopian answer to these challenges. When the "fungi houses" are no longer needed, they could be returned to nature through controlled composting.
Question
As a biotechnologist and artist, what fascinates you about fungi?
Answer
Fungi - both molds and Basidiomycota - are multilayered, multiform and multifunctional. Some give life – as food or in medicine. Others bring death – because they are pathogenic or produce dangerous toxins. Some fungi are stunningly beautiful, others are repulsive and ugly. They are equally visible and invisible to us. Therefore, fungi have an almost mystical effect on many people. They cast a spell on them, and countless myths entwine themselves around them. As a scientist, I research the versatile potential of fungi for biotechnology and their threat potential for humans and environment and I transfer this knowledge into innovative applications. As an artist, I am fascinated by their unrestrained metamorphic power, their potential for transformation in relation to themselves and the nature surrounding them. I translate these metamorphoses into sculptures to bring dream and counter worlds to life and to make us see the world around us with different eyes.
Question
Which fungi would be suitable for the production of building materials, and which characteristics are relevant?
Answer
Basidiomycota are most suitable for the production of composite materials. These include edible species such as oyster mushrooms or tree fungi, e.g. the tinder fungus, which can be found on diseased or dead trees. Important characteristics are that the fungi grow quickly on the renewable plant material, that the formation of fruiting bodies and thus spores is suppressed during cultivation and that the fungi do not produce toxins. Depending on the type of cultivation, the selected fungus and the selected substrates, different material properties can be achieved for the forming composites. We are in the process of researching these multifactorial influences with the aim of using them to produce tailor-made materials at low cost.
Question
In your opinion, what makes fungi into pioneers in the transition to a bio-based economy?
Answer
I believe without fungi there can be no bioeconomy with its principles of sustainability and circular economy. Fungi are masters of decomposition. Biologically based substrates like lignocellulose, starch, but also protein and fat waste can be metabolized by them. But they are also masters of synthesis: the monomeric components produced in this process can be used to make materials, textiles, platform chemicals or even medicines that were previously produced on a petroleum basis. In nature, this incredibly large metabolic potential of fungi is unsurpassed and will therefore breathe life into the growing bioeconomy.
Question
You have started the Citizen Science Project "Mind the Fungi". What were the reactions?
Answer
There is a huge interest in our research and the "Mind the Fungi" project – from the Citizen Science Community, the sciences, industry, the art scene and interested laymen. I would trace this back to the inherent attraction of mushrooms and the growing recognition that fungi and fungal biotechnology do indeed have considerable potential for transformation in a bio-based economy, which makes them a driver of innovation. Our vision of living in fungi, dressing in fungi and living with and from fungi both confuses and fascinates people. The wake-up call "Mind the Fungi" has arrived. Many have been excited and inspired by the idea.
Author: Beatrix Boldt