Brain AG plans IPO on Frankfurt stock exchange
The Hessen town of Zwingenberg has been one of the main locations of German industrial biotechnology. Originally a technology start-up, today Brain AG has grown into a corporation of six companies with 240 employees.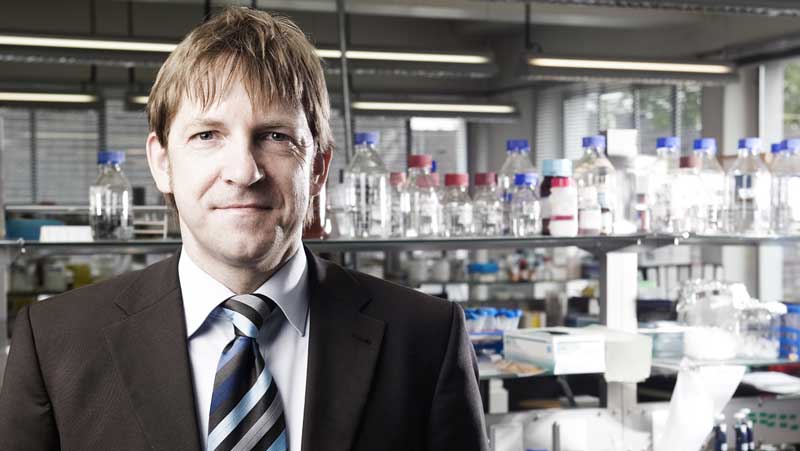 Source
BRAIN AG/ Kristian Barthen
Now further growth will be financed through the stock exchange. The bioeconomy pioneers from Zwingenberg had speculated on a possible floatation for a long time, and now it's definite. On 5th January, Brain AG officially announced their IPO plans and in contrast to many other German biotech companies, have decided to float on the Frankfurt stock exchange. "We see ourselves as an icebreaker for the bioeconomy in the financial centre Frankfurt," CEO Jürgen Eck emphasises to biotechnologie.de. There has not been a biotech IPO on a German stock exchange in Germany since 2007. There are currently 19 German listed biotech companies, 15 of which are listed in Frankfurt.
Most recently, four German biotech companies ventured onto the trading floor, albeit all abroad. In 2015, the diagnostic specialist Curetis opted for an IPO on Euronext as did Hallensier Probiodrug the previous year. Drug developers Affimed and Pieris struck out across the Atlantic and listed on NASDAQ, which according to a capital market study published in autumn by BIOCOM AG (more ...), has become a serious alternative for European biotech companies. Overall, European biotech companies experienced an upswing on the stock markets in 2015, with Paris and London especially attractive for biotech companies. Stem cell bank Vita34's IPO in 2007 was the last German biotech flotation to take place in Frankfurt, however, Wilex was the last drug developer to venture on the German stock exchange in 2006. Since then biotech companies have steered clear of Frankfurt, but Brain AG could be the company to break the ice. "The time is ripe for a bioeconomy IPO in Germany. We believe Frankfurt, as a financial centre, is strong enough. We don't see any reason why the bioeconomy should not be represented here," Brain AG's CEO Jürgen Eck told biotechnologie.de. For a long time now, the German stock exchange has tried to appeal once more to technology companies. Most recently, the German Stock Exchange Venture Network was launched to facilitate growth financing. A listing in the US was out of the question. "The aim of our IPO is a significant capital increase to finance our growth. We are not looking for an exit strategy," explained Eck.
IPO for industrial biology in Germany
As stated in the German newspaper Handelsblatt Brain AG's IPO is planned to take place in February. ODDO Seydler Bank AG is acting as Sole Global Coordinator and Bookrunner in the transaction. Blaettchen Financial Advisory GmbH is supporting the Company as IPO consultant and wants to open the company up to institutional and other private investors. "Now we are ready to increase our independence on the financing side, in order to properly benefit from the tailwind in our industry. The planned IPO will bring the expansion of our company an important step forward," stresses Eck in a press release. The proceeds from the IPO – a sum in the tens of millions is expected – will be invested in the further expansion of research collaborations as well as in the continued development of its products on a more global scale, i.e. beyond the German-speaking countries and Europe. Brain AG focuses above all on biobased ingredients for the food industry, specialty chemicals and the cosmetic industry. According to Jürgen Eck, several new product launches are on the horizon, such as a natural product as a salt substitute. "This is currently in advanced consumer tests," says Eck.
Existing shareholders to stay on board
Currently, the company says 51% of Brain AG's share capital is held by the family office MP Beteiligungs GmbH, around 20% by MIG, a group of venture capital funds, and the remaining 29% is in the hands of the founders and the senior management. The "original shareholders" will, according to company information, continue to hold a significant stake in the company after the planned IPO, which is today a corporation of six companies with a total of 240 employees. The offer will consist of initial public offerings in Germany and Austria and private placements in certain jurisdictions outside of these countries, as well as outside the US. Ten percent of the shares offered will be reserved for retail investors. Plans are being made to provide dedicated subscription channels – also via the company itself – for this particular purpose. Overall, the IPO proceeds will reach the double-digit million range, say company insiders. It will be the first German biotech IPO from a company that does not develop medicines, but develops biobased industrial solutions for a variety of industries.
Brain AG is pioneering the bioeconomy
Brain AG is a German model company in bioeconomy. The speciality of Brain's employees: to develop untapped, powerful enzymes, microbes or natural materials and make them commercially useful. Whether in the cosmetic industry biomining, or natural products chemistry the objective pursued is the same in each case. On the basis of its microbe archive, either classic chemical processes are replaced by resource-efficient bio-based procedures, or by borrowing from nature's toolbox, entirely new products with superior characteristics can be created. According to the company, its overall economic performance in the financial year 2015/15 was 25.7 million euros in total. The division "Bioindustrial", which focuses on the development and marketing of its own products makes up more than half of the Group's operating performance, accounts for 53% in the fiscal year. And then there are the proceeds from the business unit "Bioscience".
Brain AG: From research partner to corporation
In recent years, with the knowledge of microbial diversity, Brain AG has established itself as a strategic research partner for the industry and is now working together with more than a hundred companies, including many industry giants such as Evonik, BASF, DSM and Symrise. The Zwingenberg group is involved in a whole range of industries: from chemistry, nutrition and cosmetics to the mining industry. The Group has also made the headlines among other things when they formed an alliance called "Natural Life Excellence Network 2020" (Natlife2020), which was coordinated by Brain AG and funded by the Federal Ministry of Research, for which they received several million euros. In August 2015, the company announced that biobased ingredients for food – such as special enzymes for the production of lactose-free dairy products – is another of the Group's research areas.
Obtaining majority stakes to grow
In recent years, Brain AG has continued to establish itself increasingly through acquisitions in five majority as well as two minority stakes. Based on this strategy, the company has set itself up further in the value chain and has acquired more expertise in several areas ranging from production to sales. Recently, the Zwingenberg corporation took over 51% of Weissbiotech GmbH in Ascheberg near Munster and the white biotech France Sarl in Chanteloup-en-Brie, near Paris, to jointly conquer the market in industrial enzymes. In mid-2014, the natural stone specialist Analyticon from Potsdam was brought into the Group. In 2012, Brain AG gained a portfolio of cosmetic companies, however not to develop its own products, but to manufacture them and bring to market. Now the company plans to succeed in the field of nutrition – such as natural food ingredients – or in medical technology. "In the future we want to, for example, get involved in the field of wound care and establish market entry," Eck stressed in summer when he took on the role of CEO at the company. With the planned IPO, the Group announced that from the 1st January 2016, former supervisory board member Georg Kellinghusen would be appointed as CFO.
© biotechnologie.de/sw